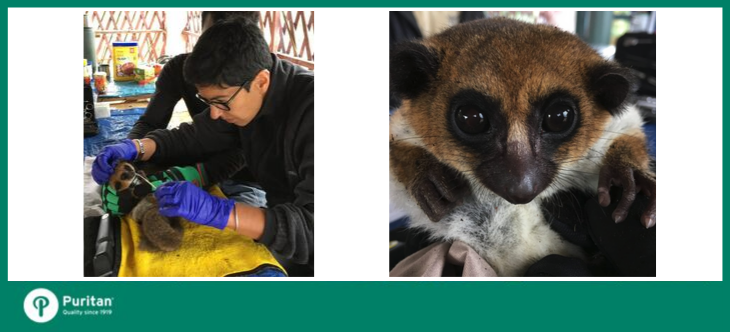 It's nothing short of amazing, how customers turn to Puritan for help to conduct their everyday tasks, even when their jobs are anything but run-of-the-mill.
Last spring, Auburn University researchers used flocked swabs to study large-mouth bass in the Southeastern United States.
A few months later, in June, researchers Marina Blanco, Ph.D., and Lydia Greene, Ph.D., were cracking open Puritan products -- 250 miles off the coast of Mozambique.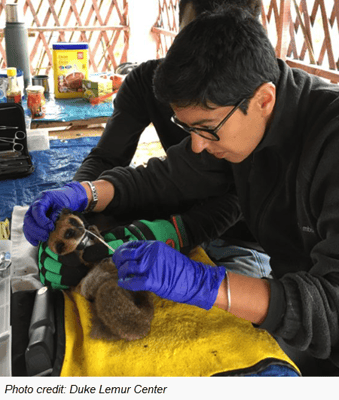 Blanco and Greene are scientists at the Duke Lemur Center at Duke University in Durham, North Carolina. One of their projects focuses on the hibernation patterns of dwarf lemurs, tropical primates native only to Madagascar (though you'll also find them on PBSKids.org.)
You can read a detailed account of their trip here.
The samples collected are helping the team study what dwarf lemurs' bodies do to prepare, sustain, and survive the hibernation season. The goal is to better understand metabolic changes, stress control, physiological resilience, and microbiome structure and regulation in dwarf lemurs. Ultimately, they hope, the research will help crack the code of primate hibernation.
Dr. Blanco had three criteria for the right sampling swab for the job.
Small enough to be used in study dwarf lemurs (about the size of squirrels)
Very absorbent to capture cheek epithelial cells
Minimally invasive material to avoid injuring the lemurs
"The Puritan 6" sterile thin foam swab," Blanco wrote in an email, "seemed to be the perfect fit."
Now that Blanco and Greene have collected samples during the active season before hibernation (February-March) and during hibernation (June), they will return to Madagascar to collect samples after hibernation (October-November.)
Typically, when dwarf lemurs are active, researchers tranquilize them to take measurements, collect blood, fecal and oral swab samples, and put on (or remove) radio-collars. After 25-30 minutes, the animals come out of anesthesia and are ready for some sugary water and release.
But anesthesia wasn't necessary on this recent trip. Dwarf lemurs' normal body temperature is a very human-like 98.6%. But during hibernation, that drops to about 61 degrees, that of the soil where they've made their underground nests. In that state, the animals are quite lethargic. Team members unearth the lemurs, collect samples, and return them without much disturbance at all.
For details on Puritan products, please visit www.puritanmedproducts.com. For samples and product support, please contact our sales team.