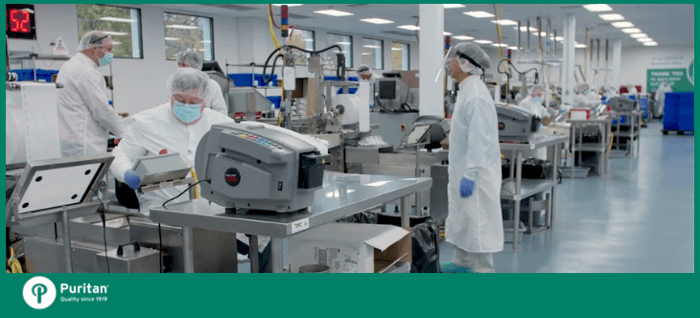 This past summer, when our new plant opened in Pittsfield, Maine, we doubled our capacity to make COVID-19 testing swabs. We also added 400 jobs to one small community in central Maine.
For us though, it's not just about employing workers. We are committed to providing them with a quality work environment. Now that the plant has been up and running a few months, we checked in with our team to see how it's going.
Some of the words people used to describe Puritan include "amazing environment," "great people," "close-knit," "wonderful experience" and "family-oriented." Several people we spoke with were new to manufacturing and mentioned the kindness and patience shown by others as they learn their new jobs.
How do workers feel about being engaged to fight COVID-19? Many appreciate being part of a mission, a larger effort to save lives. Knowing that they can have a tremendous impact through their work is inspiring to many on the team.
What do they like most about working for us? "I love working for a company that takes care of their employees," said one recent hire.
What surprised them about working at Puritan? "That employee are well taken care of and feel important in an individual way" and that there were more opportunities to grow with the company than expected.
Interested in learning more about Puritan? You can explore our rich 100-year history and current job opportunities on our website.