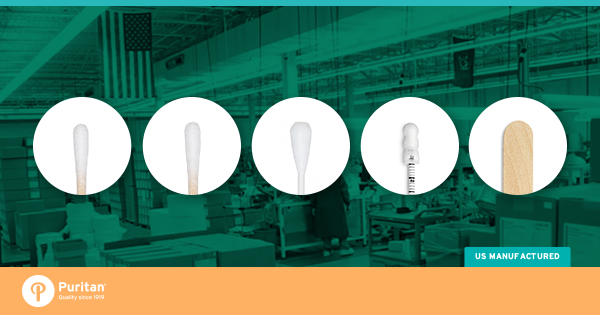 With the 4th of July right around the corner we're thinking about how grateful we are that all our products can be made right here in the USA. All Puritan products are manufactured, packaged, and shipped from our manufacturing facility in Guilford, Maine and we are as committed to supporting the local economy as we are to producing the highest quality products.
And we know our customers appreciate it, too. We have relationships that span decades where the same products are ordered again and again. What are some of their favorites? Let's take a look at our top five most popular medical products:
6" Cotton Swab With Wooden Handle
This medical grade cotton-tipped applicator is the Flagship of the Puritan brand. While it seems basic in design and function, it takes a lot of technology to produce consistently and to the specifications required by various industries.
While we're highlighting this swab as a medical product—but it is also has crime scene investigation and many industrial uses. Many manufacturers cite Puritan's 806-WC as the product of choice for use in the production and maintenance of highly technical equipment, from electronics to spacecraft.
Think that's impressive? We also have customers using our swabs to research wild elephant populations and provide lifesaving medical services in impoverished nations.
6" Sterile Standard Cotton Swab With Wooden Handle
Take an 806-WC... wrap it, sterilize it and you have the 25-806 1WC. This sterile swab has a sturdy wooden handle ideal for buccal swabbing and blood specimen collection, making it a go-to for patient care and crime scene investigations.
Sterilization is key because compromised samples can have serious consequences, including false accusations and mistrials, for law enforcement officials who rely on accurate forensic evidence to prosecute criminals.
8" Oversized Rayon OB/GYN Swab With Paper Handle
Our OB/GYN swab is a standard in women's health because of its purity and reliability. The rayon-tipped swabs are both soft and absorbent, providing effectiveness and patient comfort at the same time.
Rayon is an excellent material for specimen collection because it's a synthetic fiber manufactured from wood pulp. While produced from natural material, the manufacturing process eliminates any components that may damage the specimen or interfere with specimen transport and/or processing.
6" Sterile Foam Tip Plastic Wound Measuring Device
Wound care is extremely important in all health care facilities. Improper wound care can lead to infection and other serious medical conditions, making immediate wound analysis and measurement critical to the health and safety of patients and practitioners alike. For these reasons, the need for a disposable device to aid in wound measurement is constant.
Our soft but strong foam-tipped wound measuring device (DM Stick) features a graduated metric scale, indented at 1/2 cm intervals, on the handle. The foam tip allows for the product to double as a specimen collection device.
6" Sterile Standard Wood Tongue Depressor
Disposable wooden tongue depressors were first widely used by medical professionals in the 1800s, and have remained popular ever since. Indeed, the simple wooden tool is still a staple in medical practices to depress the tongue to allow for examination of the mouth and throat. Impressive in today's world of ever-evolving technology, right?
It's staying power is partly due to its versatility; Puritan's wooden tongue depressor can be used for oral patient care and examination, veterinary examinations, applying or mixing medicines, and more. Another positive is the fact that production fits in with our green initiatives; 80,000 tongue depressors can be produced from just one tree!
If you're interested in learning more about our most popular medical products, contact one of our knowledgeable sales representatives today.