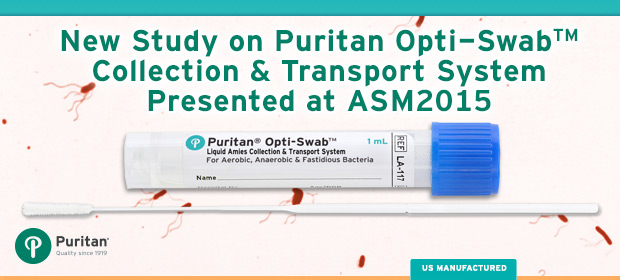 Here at Puritan, we're confident in the efficacy of our single-use products and enjoy demonstrating their merit and superior functionality in practical applications. ASM, the annual meeting of the American Society for Microbiology, is an ideal venue for exposing thousands of attendees to advanced products and how they perform in common diagnostic applications. This year at ASM, a recent study showed the performance evaluation of Puritan's Opti-Swab™ Liquid Amies Collection & Transport System Medium, using real-time Q-PCR in the detection of Bordetella pertussis, a causative agent of Whooping Cough.
One of the highlights during this year's gathering was the presentation of a poster finding Puritan's Opti-Swab™ (LA-117) as an effective and reliable collection and transport choice for detecting Bordetella pertussis by real-time PCR. Diagnosing B. Pertussis requires a nasopharyngeal or oropharynx swab that is sent to a laboratory for Gram Stain, which includes growth on an agar plate. The study went as far as suggesting that the DNA yield was more than sufficient even at the lowest concentration at refrigerated and room temperature with Quantitative real-time PCR. This, along with previous studies presented earlier, demonstrate that Puritan Opti-Swab™ is a highly effective and economical option for Bordetella pertussis culture as well as real-time PCR method.

This study, entitled, "Performance Evaluation of Puritan Opti-Swab™ Medium in Detection of Bordetella pertussis Using Real Time Q-PCR", was presented at the 115th General Meeting of the American Society for Microbiology in New Orleans, LA held in May, 2015.
You can download a copy of the poster presented at this year's ASM meeting here.
For additional questions about the details of the study and or its findings, feel free to contact our helpful team today.