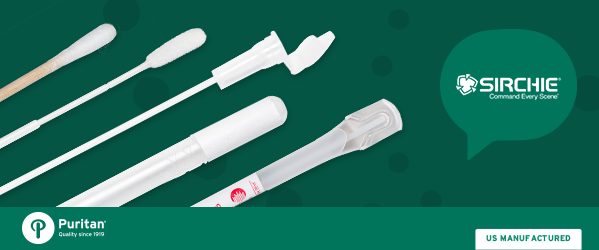 Puritan is the primary specimen collection device supplier for Sirchie, a global leader in crime scene investigation and forensic science solutions. Dyer Bennett, Vice President of Product Development and Training at Sirchie, shared his thoughts on the importance of Puritan's products in the forensic market.
The Partnership of Puritan and Sirchie
Sirchie, founded in 1927 by Francis Sirchie, works to supply law enforcement agencies with fingerprinting supplies, advanced equipment, customized vehicles, and kitting services.
The company is based out of Youngsville, NC, and serves more than half of all U.S. law enforcement agencies and over 140 countries. As a U.S. manufacturer, Bennett says that Puritan's services align with Sirchie's commitment to providing American-made products to their customer base.
Sirchie provides customers with anything they need for biological sampling. Bennett believes that Sirchie's success can be credited, in large part, to their dedication to the customer, which is why he trusts Puritan to supply quality, reliable products for distribution.
"Puritan takes great pride in innovation and quality," Bennett said, "If there is a demand, Puritan has been able to fill the need and support Sirchie in the marketplace."
Puritan Products for Training
Sirchie is a reputable full-line supplier of forensic goods and services. On an annual basis, the company trains over 600 officers in various aspects of criminal investigation. In their training, officers complete hands-on exercises to further their knowledge of different swab types and learn about the applications of each, including the following:
A Busy Future Working Together
Bennett expects the forensics market to maintain its level of need for swabs and other specialty equipment for investigation, meaning the demand for trustworthy, high-quality medical products will persist. Puritan is proud to be involved in Sirchie's journey of expanding to a multifaceted supplier for law enforcement.
You can follow Sirchie's growth and check out their Puritan products by visiting their website.