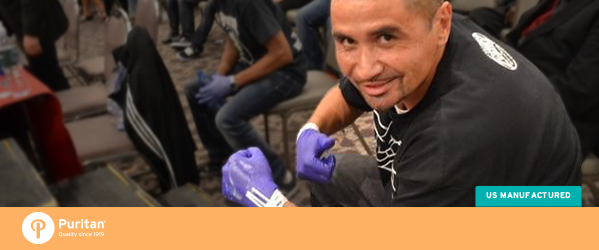 You can probably guess many of the areas where Puritan swabs get daily use: hospitals and clinics, crime scenes and forensics labs, even farms (yes, your Thanksgiving turkey gets swabbed).
But did you ever imagine our swabs could be a champ in the boxing ring? It's true!
Even the best fighters sometimes emerge from victories with cuts or bloody noses. And the losers? They usually need special attention. Both are tended to by a cutman.
A cutman works with a partner boxer to prevent unnecessary injury and stop excessive bleeding that could halt the fight. They typically handle swelling, nosebleeds, and lacerations.
Most states require that cutmen go through training or be licensed, but many novices also work under the guidance of an expert to learn the tricks of the trade and the culture of the sport. And experience is everything; a cutman has just 60 seconds between rounds to attend to a cut eye or brow, or bloody nose.
Swabs are crucial to getting the job done quickly and efficiently. Just ask Markey Nieves.
Nieves is a licensed cutman out of Southern California who travels to different states, and sometimes to Mexico, to take care of professional fighters. You might see him in a televised boxing event or at an MMA meet.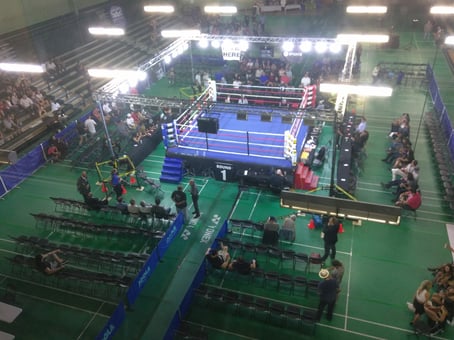 No matter where Nieves' work takes him, swabs are always close by.
Indeed, absorbent tipped applicators—big tips and small, shorter and longer—are tools as important to the trade as ice, gauze, topical medications and salves.
Nieves calls the 808 a great tool. The large tip of the applicator is not only super absorbent but also holds its shape. Another positive is that the plastic handle flexes to minimize the possibility of injury and doesn't fracture.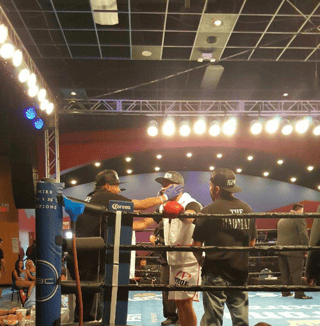 Another favorite is the double-tipped 818, which is scored in the middle and capable of breaking into two 4-inch swabs. These swabs also have large tips and sit on plastic handles, but the tips are barrel-shaped and so are well suited for treating a bloody nose.
A number of other useful swabs can be found in Nieves' kit of supplies that make it possible for him to act quickly and appropriately. He loves his work and takes pride in keeping his fighter as safe as he can. After all, his care makes it possible for a fighter to keep his dreams of victory alive.
How does Puritan help you win at work?