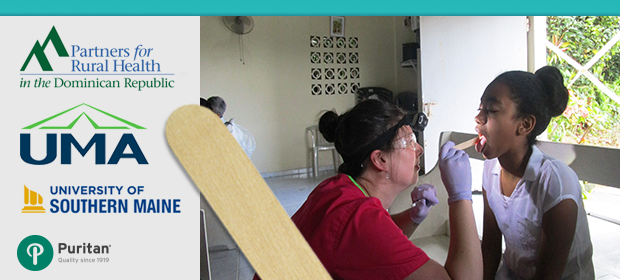 October is National Dental Hygiene month, and we couldn't think of a better time to share our experiences working with the University of Maine (UMA) at Augusta-Bangor Dental Hygiene program.
Last summer Ashley Buttice, Puritan's Director of Sales–Northeast Region, had the opportunity to work locally with members of the UMA Dental Hygiene program by providing them with enough of our adult size tongue depressor, item #705. The total donation helped 19 communities, providing care for more than 1,200 residents.
Maine Schools Team Up to Deliver Care
Two faculty members and three baccalaureate students from the Dental Hygiene Program at UMA partnered with nursing students and faculty from the University of Southern Maine to represent non-profit organization Partners for Rural Health in the Dominican Republic (PRHDR).
Working out of homes, schoolrooms, and chapels they set up clinics in 15 rural villages in the Lajas region of the Dominican Republic and provided approximately 2,000 local residents with tooth brushes, dental screenings, preventative education, fluoride varnish treatments and, where necessary, atraumatic restorative treatments.
UMA Reached Out to Puritan for Tongue Depressors
As this was the first time the UMA Dental Health faculty and students have taken part in an international humanitarian mission, they looked to Puritan for support of one essential exam tool-the wooden tongue depressor.
"Thank you for supporting our mission," said Joleen Lee, R.H.D., M.Ed. "This would not have been possible without the generosity of companies such as yours."
Puritan's wooden tongue depressor has a variety of applications including oral patient care and examination, veterinary examinations, applying or mixing medicines, and more.
Learn More About Partners for Rural Health in the Domincan Republic (PRHDR)
First established in 1995, by the University of Southern Maine College of Nursing and Health Professions, Partners for Rural Health is a 501c(3) nonprofit organization in Maine that promotes access to continuous care and health education in the Dominican Republic.
Working in classrooms, labs, a campus dental health clinic, and throughout the community, the dental health students who attend UMA are prepared for a variety of settings including dental offices, schools, and public health agencies. Those who are fortunate enough to be a part of the PRHDR gain an even broader perspective not only on their career path, but on the importance and impact of helping those in need.
Puritan was proud and honored to offer assistance to this wonderful organization.
By: Ashley Buttice:
Director of Sales - Northeast Region
Puritan Medical Products Co.