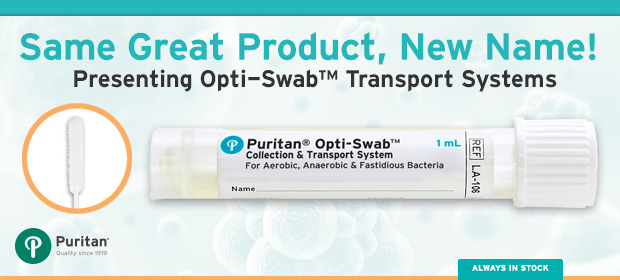 Formerly known as "Puritan Liquid Amies Transport System" for Aerobic & Fastidious Bacteria, this combination of Puritan liquid Amies medium and HydraFlock® swabs is now marketed under a new brand name, Opti-Swab™. HydraFlock® swab's superior proprietary patented flocked fiber design combined with optimized liquid Amies medium warrants the new brand name Opti-Swab™.
New Opti-Swab™ Brand Name Reflects The Medical Professional's Expectations
The Opti-Swab™ brand name and fresh new label assure the end user rapid and easy product recognition and confirmation that they've made the optimal choice.
"Nothing about our liquid Amies transport system has changed," said Timothy Templet, Puritan's Managing Executive Vice President. "The components and formulation remain as originally produced under the former name." He went on to restate Puritan's guarantee: "Our customers can still expect the same levels of Puritan quality and consistency they've counted on since 1919."

Opti-Swab™ incorporates 1ml of liquid Amies medium and is available in 3 configurations - with one standard, one mini-tip, or one ultrafine tip HydraFlock® swab for specimen collection. Vial and cap, medium and swab – all components have been engineered and produced by Puritan.
New Name, Same Validated Liquid Transport System
Opti-Swab™ is compatible with both semi and fully automated specimen processing systems. An increasingly common technology which encompasses all aspects of set-up and processing, including streaking, plating, and enrichment broth inoculation and gram slide preparation.
Opti-Swab™ Transport Systems was independently confirmed by a complete validation study on Copan's Wasp®: Walk-Away Specimen Processor (WASP). Validation tests are the only way for labs to ensure they are getting the best price and most accurate results. Validating transport systems from multiple suppliers has become a standard practice for labs around the world, not only to guarantee a sustainable supply, but also for product quality and cost comparison.
This comprehensive study regarding the validationof Opti-Swab™with Copan's Wasp® referred to it by its former name " PuritanLiquid Amies Transport System" proved that the virtually identical transport system matched or outperformed Copan's ESwab™. Comparative tests showed similar resultsto ESwab™, but Puritan'sliquid Amies generally yielded higher colony counts.
Always in Stock, Always Reliable and Accurate
Here at Puritan, we are excited to begin shipping our media transport systems with the new Opti-Swab™ label. As always, you can expect that when you place an order, it will always be in stock, shipped quickly, and the products you receive will be the same high quality that you've come to expect. When you receive your order, simply remember that while the label is different, the Opti-Swab™ transport systems are no different from the liquid Amies you've ordered in the past, and, therefore, require no additional validation.

If you have any further questions about the rebranding of this product, please feel free to contact one of our helpful product specialists.