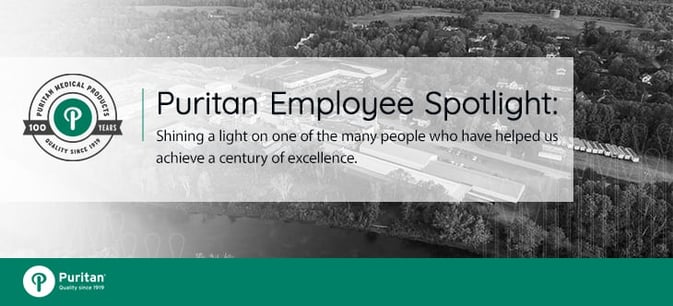 As part of our 100th anniversary celebration, we're shining the spotlight on some of the fabulous employees who've helped us reach this pivotal milestone. Today, we'd like you to meet Wendy McKenney, our director of purchasing and inventory control.
Our Q&A follows.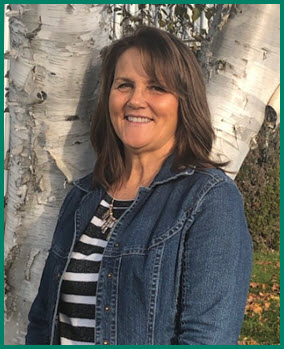 Why do you work with Puritan? What do you like best about it?
I appreciate working in a state-of-the-art manufacturing facility that is just 10 minutes from my home. The products that we produce in Central Maine are helping patients all over the world.
Every day brings new challenges. We produce thousands of different items. Many of these items are made with special handles, specific fiber tips, and detailed packaging.
It's my job to find suppliers for these components, and keep an appropriate inventory in our warehouses. I also enjoy working with our suppliers, and all of the departments here at Hardwood Products and Puritan Medical Products.
How long have you worked for Puritan?
I have worked here for 34 years! What started as a summer job in 1985, has turned into a 34-year-plus career.
How do you describe what you do to people who don't know about Puritan?
This is a challenge! When I say "Hardwood Products," people think we produce flooring! I typically reference tongue depressors or swabs that people see at the doctor's office or the hospital.
How has Puritan changed in the time you've been here?
Puritan has grown by leaps and bounds. When I started in 1985, we produced tongue depressors and basic cotton or polyester tipped swabs. Now we offer so much more. Our products are designed and produced with specific material to meet our customers' requirements.
What is your best memory in all the years you've worked at Puritan?
My best memories are the friendships I have made with my co-workers over the years. I have been blessed to work with some amazing people.
Puritan is celebrating 100 years in business in 2019...what do you think about that?
I am not surprised that Hardwood Products and Puritan Medical Products is celebrating 100 years in business. The Cartwright and Templet families are passionate about the company, and they continue to strive to provide the highest quality product.
The owners value and appreciate all of the employees. The employees at Hardwood and Puritan are amazing people; they are loyal and hardworking individuals. I was fortunate to work for Joe Cartwright for 25 years. I learned a lot from Joe, and I am thankful that he gave me the opportunity to work with him in the Purchasing Department.
Both of my sons, Derek and Zack, worked here during their school breaks and summer vacations while they were in college. After graduating from college, Derek moved to New Jersey and worked there for a few years. Three years ago, he moved back to Maine and joined the Puritan team as a Senior Manufacturing Engineer. I am happy to have Derek back in Maine!
What do you do when you're not working at Puritan?
I really enjoy working out. I spend an hour or two every day at Community Fitness here in Guilford. I am a Certified Personal Trainer and Group Exercise Instructor. I train clients and teach 2-3 classes per week.
When I am not at work or the gym I enjoy spending time at home with my husband, Kyle. We are avid Red Sox fans and try to get to Fenway Park at least once a year. Life is good!
Thanks, Wendy!