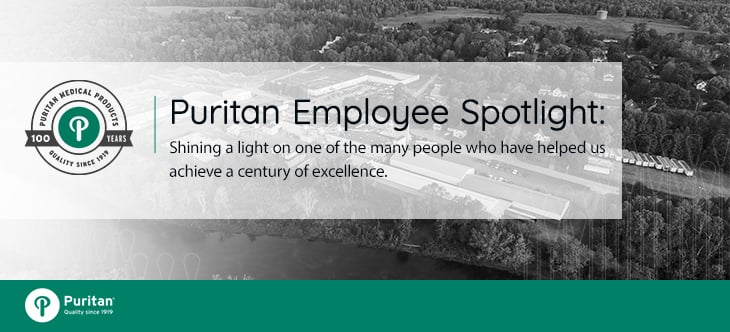 Cape Cod native Elaine Seavey Maliff is a business development associate now working part time from Florida, where she plays a key role in both sales to Latin America and supporting marketing worldwide. She first came to the company in 1987, answering a job posting for an executive secretary/receptionist. Since then, Elaine has worked as a customer service representative, a customer service manager, and an inside sales associate. In 2003, she became Southeastern U.S. regional sales manager, and then director of sales for the South Region before semi-retiring in late 2016.
We recently sat down for a little Q&A with Elaine to help us kick off our 100th anniversary.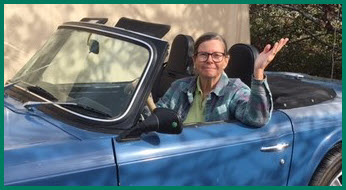 Why do you work with Puritan?
Puritan ownership has been like family to me for many years. When my first husband unexpectedly died in 1989, not even two years after we moved to Guilford, Puritan took care of me in many ways. My work at Puritan has brought me many lifelong friends – my many colleagues in Guilford, as well as those who are not on-site at the plant. I was given the chance to use the skills I brought with me from work as a research assistant, administrative assistant, marketing assistant, and just plain all-around jane-of-all-trades. I have been able to travel the Southeast extensively, something I would never have done without this work.
My work has taken me to secure manufacturing facilities, government labs, universities, even poultry farms and zoos. I take any chance that presents itself to talk about Puritan and to find solutions for users in all the markets we serve.
What do you like best about your job?
Nothing is routine. Some days are quiet and allow me time to reconnect with end-users to see how they are doing in their special realm, which might be food safety, or genomics, or critical environments. Some days are busy when material is needed for marketing. There's no routine here, and that suits me fine.
How do you describe what you do to people who don't know about Puritan?
It depends on who's asking. I most often tell them I work part time for a New England manufacturer of specimen collection products for medical, forensic, and industrial uses, connecting end users with solutions for their important work.
Or I tell them I get to travel and talk about swabs or – about my main mission – I tell them I support our marketing department with product and specialty application information that has been filed in my brain over the past 30 years. I am always looking for new applications and new opportunities to show and promote Puritan in all of the various markets we serve.
How has Puritan changed in the time you've been here?
Customer service representatives now have much more responsibility, more training, and more opportunity to focus on one area when staffing allows. While it's still very much a place of business, Puritan's style is not one you'd find everywhere. Roles are somewhat fluid, with coverage adjusted as needed to be sure the right staff tends to the right customers, and that incoming traffic is served efficiently.
What is your best memory in all the years you've worked at Puritan?
One of my favorite memories is of my (semi) retirement party. It was a total surprise, and it was fun to be with my colleagues to bring that chapter to a close. It was held at a local Guilford place, which was simply perfect, as I like to think I am still as much a Guilford local as I ever was, even if I was far away.
I have many memories of my time at Puritan. Looking through old material as we consider how best to celebrate 100 years, I am reminded of many wonderful hours and many good friends.
Puritan is celebrating 100 years in business in 2019...what do you think about that?
It was bound to happen. There were some bumps in the road since 1987 – loss of business to imports, the flu pandemic that required all hands on deck, and pressure from competition. But I had no doubt the company would weather every storm. I think the next 100 years will see Puritan still in step with technical advances and still solving problems.
What do you do when you're not working at Puritan?
I pick up my guitar or practice my piano, plant more gardens, sail more, walk in the sunshine, and ride in the little old English cars my husband restores. And I step away from the computer and read. I will stay home, for the most part. I have been on the road plenty.