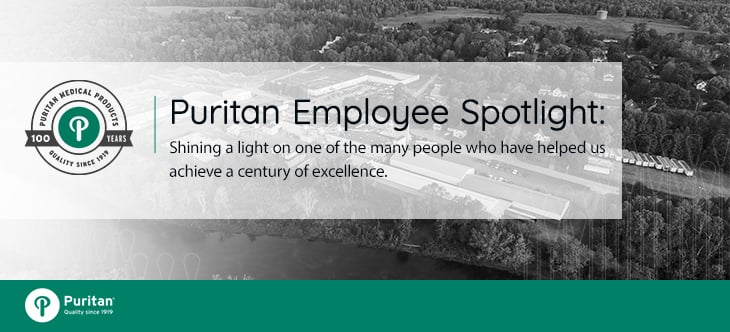 As part of our 100th anniversary celebration, we're shining the spotlight on some of the fabulous employees who've helped us reach this pivotal milestone. Today, we'd like you to meet Derek McKenney, senior manufacturing engineer. After three summers as an intern from 2011-2013, Derek joined us full time in 2016.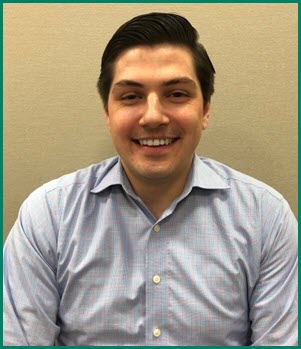 Our Q&A follows.
Why do you work with Puritan? What do you like best about it?
One of the biggest reasons I work at Puritan is because of the difference it makes in the world. We supply critical medical devices in kit and component form that help patients around the globe.
The best part of my job is also one of my biggest challenges. In a market with emerging technologies and evolving industry giants, we are tasked with quickly transitioning from concept to manufacturing while meeting and maintaining rigorous quality requirements. In the end, nothing will ever surmount the satisfaction of improving global health.
How do you explain what Puritan offers to those who are not familiar with the company?
I describe my role at Puritan as an engineer who supports the manufacture of highly regulated medical devices. I focus on continuous improvement as it relates to quality and efficiency of legacy products. While at the same time managing facility upgrades, machinery builds, and new product manufacturing.
How has Puritan changed in the time you've been here?
Puritan has grown rapidly since my arrival at the company. The paradigm is changing in the diagnostic industry, with flocked applications becoming the future of testing. The demand increase in this segment has generated many new challenges as we continue to provide the market with a superior flocked product.
What is your best memory in all the years you've worked at Puritan?
My favorite memory has to be the launch of the Hydra product line in 2011. It is truly amazing to think a small company in central Maine could revolutionize the diagnostic testing world.
Puritan is celebrating 100 years in business in 2019...what do you think about that?
It is awe-inspiring to think how the company has grown and developed since its inception 100 years ago. To start out manufacturing wood products in Michigan to becoming a leading manufacturer of single-use medical devices is something truly unique. The fact that we are a small company in central Maine that is partnered with organizations and companies all over the globe is an achievement in itself. I consider myself very lucky to be part of a company with such a rich and diverse history.
What do you do when you're not working at Puritan?
I enjoy spending time in the Maine outdoors, fly fishing and camping. However, one of my favorite hobbies is being an amateur foodie, exploring what Maine and the surrounding New England states bring to the table.
Thanks, Derek!
We'll be sharing other employee spotlights throughout the year. You can read earlier spotlights on Elaine Seavey Maliff here and Mona Knight here.