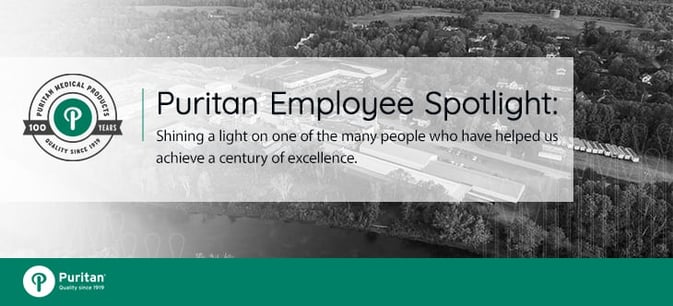 As part of our 100th-anniversary celebration, we're shining the spotlight on some of the fabulous employees who've helped us reach this pivotal milestone. Today, we'd like you to meet Ashley Buttice, vice president of sales – corporate accounts and Northeast region. Ashley is in her 11th year with Puritan.
Our Q&A follows.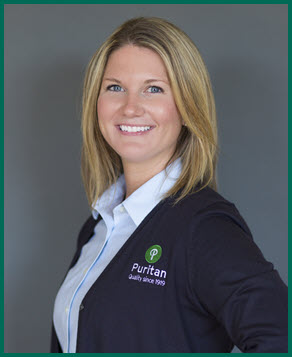 Why do you work with Puritan? What do you like best about it?
I work for Puritan because I believe in the integrity of the company, the quality products it manufactures, and the wonderful people it employs.
Working with our customers and building relationships is what I like best. I am fortunate to be a part of the team that directly educates customers on who we are and the variety of products we offer, which is very exciting!
How do you describe what you do to people who don't know about Puritan?
I explain that Puritan supports many different markets ranging from the swabs that go in a child's throat for a strep test, to swabbing food surfaces for contaminants, to detecting trace amounts of DNA at a crime scene – as a member of the sales team, every day and every customer interaction is unique!
How has Puritan changed in the time you've been here?
Although the core principles of the company have remained the same, in the 11 years I have been with Puritan the products manufactured have evolved tremendously – they have become more sophisticated as a result of new technology and automation. The addition of the Microbiology Lab during my tenure is the perfect example. We are now able to not only offer specimen collection devices, but we can also supply a transport or growth media to further support the customer's needs.
What is your best memory in all the years you've worked at Puritan?
When I reflect on my time here at Puritan thus far, it is fun to see how much I have personally grown. I got married and started a family during my time here at Puritan. Being able to share my family and personal growth with the Puritan family is most rewarding and continues to be an evolving best memory!
Puritan is celebrating 100 years in business in 2019...what do you think about that?
The rarity of it alone is nothing short of remarkable! Puritan has been a long-standing employer to the Piscataquis County region, which is amazing and something to be proud of!
What do you do when you're not working at Puritan?
I spend as much time as I can with my husband and children – as a mom of two little ones, I try to make as many memories with them as possible as I know life is short. We enjoy being outside as much as we can and exploring various parts of the beautiful state of Maine!
Thanks, Ashley!