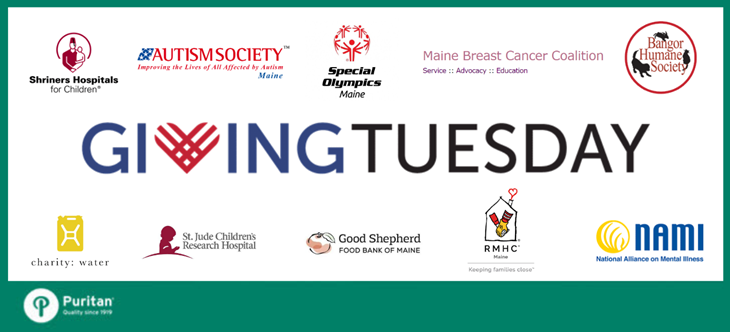 Puritan is proud to participate in GivingTuesday, the global generosity movement on December 3 that unleashes the power of people and organizations to transform their communities and the world.
It seemed only right to help support employees whose lives have been brightened in some way by the generosity of some amazing charitable organizations, in Maine and around the world.
Through their generosity of spirit this year, our employees helped support Puritan Medical Products in our long drive to reach the milestone of 100 years in business.
Puritan has a long history of giving back to our communities, including local scout troops and community events, as well as to important research projects such as fish with Auburn University, wildlife with Duke. For a look other interesting and worthwhile projects, please click here.
At the start of 2019, we went a step further and established the Puritan Gives Back charity donation program. Each month, employees were invited to nominate a charity they would like the company to support with a donation.
"We've survived floods, fires, and hard times," says Timothy Templet, executive vice president of sales. "And we have the commitment of our employees to thank for it."
At each monthly drawing, Puritan announced the winning charity and the employees who nominated it.
Here is a list of the charities selected throughout 2019 and the Puritan employees who nominated them.
January: CharityWater, Christi O'Halloran
February: Aliza Jean Family Cancer Foundation, Jill Cookson
March: Bangor Humane Society, Jeannie Connor
April: Autism Society of Maine, Lisa Watson and Robert Peachy
May: National Alliance on Mental Illness, several
June: Special Olympics of Maine, Mindy Eddy
July: St. Jude Children's Research Hospital, Sandra St. Louis
August: Ronald McDonald House of Maine, Roberta Draper
September: Shriners Hospitals for Children, Terry Chabot
October: Maine Breast Cancer Coalition, several
November: Good Shepherd Food Bank, Laura Lee
"We would not be where we are today without our employees and their families," Templet says. "We recognize that, and we thank them for all they do."
So please join us and give back as you see fit. One of the best ways to get involved is in your own community. GivingTuesday organizers created a directory to help you find organizations, events, and ways to give back in your own community.
For more information, visit the GivingTuesday website today.