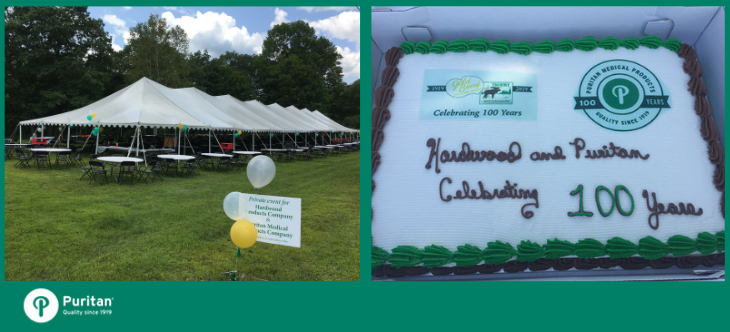 It was a century in the making, and Hardwood Products and Puritan's 100th Anniversary Celebration was well worth the wait. On Friday evening, July 26, about 1,000 Puritan employees, friends, and extended Puritan and Hardwood family members gathered at the Guilford Ball Field on Water Street and the north bank of the Piscataquis River.
---
Watch the video recap!
---
The celebration began with a wonderful catered dinner, followed by raffles, service awards, and a great band.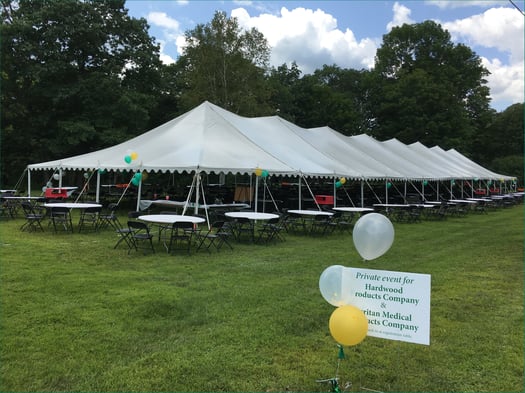 (For more photos, head on over to our Facebook page!)
Marketing Manager Virginia Templet and General Manager Terry Young served as masters of ceremony for the awards portion of the program, and Timothy Templet, executive vice-president of sales, addressed the gathering.
"As we all enjoy ourselves this evening," Timothy said, "please remember that our great companies would not be where we are today without you -- our employees and your families. We recognize that, and we thank you for all you do."
A remarkable 36 employees received Tenure Certificates, given to those who have been with the companies from 30 to 50-plus years. Seasoned pros Richard Williams (55 years) and George Sprague (45) topped the list, while Robert Miller, Tracy Porter, Deborah Larson, and Lorne Noiles rounded out the "up-and-comers" division at 30 years.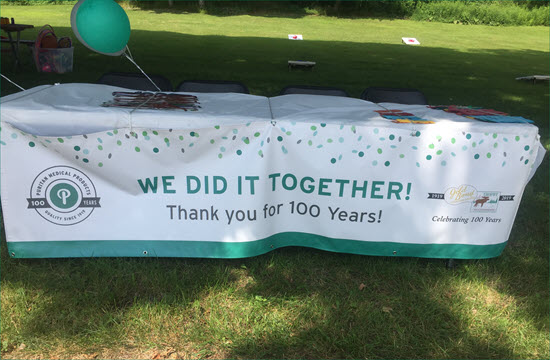 Central Maine's own Mallett Brothers Band played their unique blend of blues, rock, bluegrass, and country to the delight of young and old alike. The band hails from nearby Sebec, and members enjoyed playing for so many old high school classmates. (A special thank you to Teel Plastics for sponsoring the band's appearance!)
The band closed out the evening, but the fun continued on Saturday with the annual Piscataquis River Festival celebration. On Saturday, Puritan and Hardwood entered a float in the festival parade and sponsored two booths for people to enjoy. One was a display on the histories of Hardwood Products Company and Puritan, where employees, retirees, and family members stopped by to chat. The other was a fun stop where festival-goers could pick up snacks and treats to enjoy.
Puritan employees also volunteered for a dunk tank, where the water was "a refreshing" 43 degrees -- compared to a daytime high of 88. Contestants paid $1 for 3 balls or $5 for a push of the target, and proceeds went to the Piscataquis County United Bikers of the Maine Cancer Fund.
"So many people enjoyed the 100th celebration and the companies' participation in the festival," Virginia Templet said. "If you ever needed an example of a tight-knit community, you certainly found a great one this weekend in Guilford."