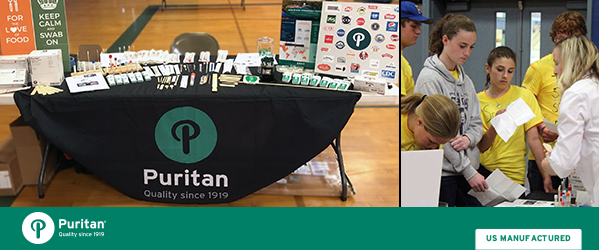 On Friday, June 2nd, Guilford's Piscataquis Community Secondary School invited us to participate in their 1st Annual Spring Fling Health Fair. This was a day to focus on overall health and wellness with the students in our community.
Guilford, Maine is a small town of 1,500 people with only a few employers, so most of the school's 200 students are familiar with our company. In many cases, they have family members that did or still do work at our plant. Most, however, were not aware of the broad range of products made here in the company's fully integrated manufacturing facility. This was the perfect opportunity to show them just how amazing our operation is.
The Day's Events
The morning kicked off with community service projects for the PCSS students. While they were busy at work, 75 students from Greenville, a town 25 miles to the north, accepted the invitation to visit and toured the expo.
Following a hard morning's work and the delicious BBQ lunch prepared by faculty, the expo hall opened giving the PCSS students the opportunity to visit with representatives of more than 20 local businesses and agencies.
Who Was There
Exhibitors represented the Maine Game Warden Service, the Piscataquis County Sheriff's Office, Mayo Regional Hospital, Woman Care and other businesses and community service organizations promoting safety and healthy choices for every aspect of life in Maine. They covered topics from fitness, dental health and nutrition, to drug dependency and mental health, to safety in the community and in the Maine woods. Puritan, the only manufacturer present, was invited to exhibit the products they manufacture for health care.
Sabrina Gormley, Sales Specialist at Puritan Medical Products, showed the students the many varieties of medical devices produced, from basic tongue depressors and cotton tips to specimen collection devices for diagnostics and research. For many students, it was the grape flavored tongue depressor that first got their attention, but once they stopped to taste one they found they were interested in staying to hear about the items intended for flu testing or crime scene investigation. Sabrina explained the process of swabbing to collect a throat sample and why some kits have 1 swab vs. 2 swabs. She also demonstrated how to collect a buccal sample and invited students to collect their own. They were hooked on swabs, now, and entered the drawing for a "Keep Calm and Swab On" t-shirt, hoping to be the lucky winner at the close of the event.
Principal John Keane said of the event, "It's an opportunity to teach soft skills-life skills-and have some fun in the process. The kids play an important role beyond participating - they actually help design the program, contacting those who help make it possible, and even help with the setup and planning."
Keane looks forward to making this an annual tradition. He can count on Puritan's support.