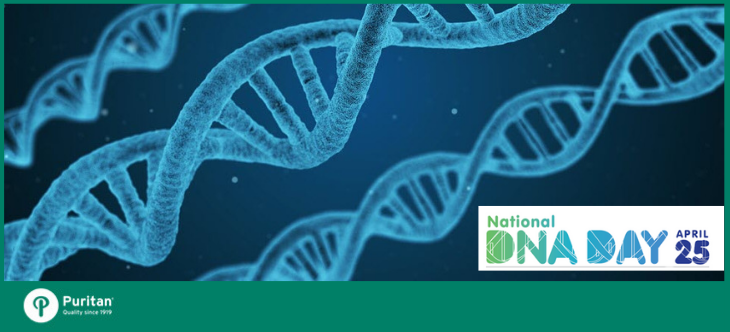 Did you know April 25 is National DNA Day? It's true!
According to the National Human Genome Research Institute, "National DNA Day is a unique day when students, teachers, and the public can learn more about genetics and genomics. The day commemorates the completion of the Human Genome Project in 2003 and the discovery of DNA's double helix in 1953."
DNA is the building block for human life, and it's a hot topic in our everyday lives as well. Just imagine an episode of Law & Order or Criminal Minds that doesn't mention DNA. Or try avoiding commercials for ancestry-testing kits.
Of course, the main DNA testing tool is the swab, which is where Puritan comes in.
We've been proudly supplying quality swabs for DNA testing for decades—and we've written extensively about this topic as well.
So in honor of National DNA Day, we've rounded up some of our most popular articles about DNA collection. Check 'em out below.
Ancestry DNA Kits: Collection by Swab or Spit, and Just What They Reveal. Not all DNA collection techniques are created equal. Learn the difference between swab and spit tests—and which results you can trust more. Keep reading.
How to Swab for Touch DNA Evidence. Also known as "Trace DNA," Touch DNA is a newer crime scene investigation technique used to collect and analyze microscopic transfer cells left behind during the commission of a crime. Learn why so many folks in law enforcement consider touch DNA to be a breakthrough—and why the right type of swab is so critical. Keep reading.
The Top Three Sterile Swab Types for DNA Collection. We know many of our readers want "just the facts, ma'am," so here you have it: the top three swabs that'll get the job done right. Keep reading.
Three Key Steps to Effective DNA Swab Collection at Crime Scenes. Having the right swabs at a crime scene is an important first step, but you also need to know how to use the swabs correctly. Don't worry—we got you covered with this helpful article. Keep reading.
How to Collect a Buccal Swab Sample for Forensic Analysis [VIDEO]. Raise your hand if you learn better by watching a visual demonstration rather than simply reading text. You're not alone, which is why we have a turbo-charged article complete with written instructions and a video demo. Keep reading…and watching.
Got questions? Don't hesitate to reach out. Or browse our line of medical swabs for forensics and genetics. And have yourself a Happy National DNA Day!