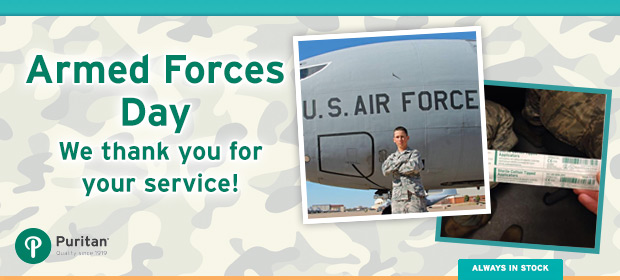 Here at Puritan, we honor those who serve our country and express our gratefulness for the sacrifices they make on National Armed Forces Day, Saturday, May 16th.
This day of celebration was declared in the summer of 1949 by Secretary of Defense Louis Johnson as a way to unify the five branches of the United States military: the Army, Navy, Air Force, Marine Corps and Coast Guard.
In a New York Times article published on May 17, 1952, it was written, "This is the day on which we have the welcome opportunity to pay special tribute to the men and women of the Armed Forces...to all the individuals who are in the service of their country all over the world. Armed Forces Day won't be a matter of parades and receptions for a good many of them. They will all be in the line of duty and some of them may give their lives in that duty."

Many former and current Puritan employees have served in the military, and we'd like to take this opportunity to shine a quick spotlight on one of our own. Logan Sargent, who is currently serving as a crew chief for the United States Air Force. Sargent worked in the Puritan factory for two summers before shipping off for training at the Royal Air Force Base in Mildenhall, England. Recently, after a routine health screening in England, Sargent posted a photo to social media in which he is holding Puritan's Sterile Cotton Swabs.
This image emoted a powerful message that Puritan stands behind our military, as our products are used in examinations, procedures, and treatments for our soldiers in all branches of the military; not only here on American soil but also overseas on U.S. military bases. A variety of our single-use medical products can be found in both V.A. and field hospitals and even out on the line, used extensively for medical and diagnostic testing. Our products aid in the act of swabbing crime scenes and of gathering DNA evidence from suspected combatants for use in forensic applications. Also utilized by our military is the DM Stick, a disposable, foam-tipped measurement device that allows medical professionals to determine the depth of a wound thereby providing accurate measurement for care.

We are also proud for the ways in which our products offer support to the Armed Forces by assisting in the manufacturing of night vision scopes and other highly specialized tools and equipment developed for the Department of Defense. Puritan also has a hand in specimen collection in the search for bioterrorism threats. For example, the Macrofoam Tipped Swab (25-1607 1PF SC) was developed for the detection of Anthrax, perhaps to monitor for MRSA, radioactive or chemical contamination.

Additionally, our flocked swabs aid in the research and development of detection and treatments for global illnesses, such as tuberculosis, which can be acquired while in service to our country.

Whether they are spending time far away from their families, serving their country while overseas or close to home, the courageous men and women who have answered the call to serve are to be lauded for their tremendous service. We hope you will join us in celebrating our troops and veterans for their sacrifices and their commitment to protecting and defending our nation, securing our futures and those of our children.

At Puritan, we take great pride in the fact that our products can play a small role in protecting our servicemen and our country. Our long-standing and trusted manufacturing history dates back to 1919 and our products have always been American made. That's 96 years of unwavering commitment here in our state of the art facility in Guilford, Maine. We are proud to distribute our products to our United States Armed Forces, both near and far.

As always, if you have any questions or would like more information regarding our cutting edge products, please contact your local sales representative today.