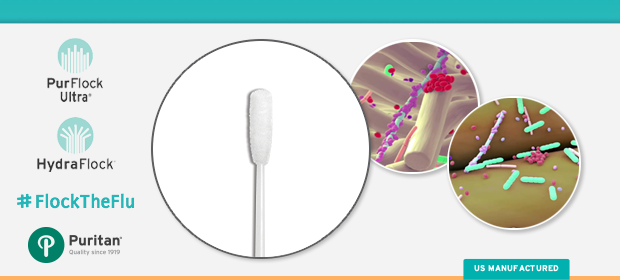 When dealing with small or elusive samples as those needed for flu testing, flocked swabs are the way to go. Their ability to collect and elute specimen is unparalleled.
However, not all flocked swabs are the same. So how do you choose?
Things to Consider
Here are some basic factors to consider when shopping for flocked swabs. The efficacy of the swab depends on several things:
The materials used

The flock design

Whether the tip is coated or non-coated
These may seem like tiny distinctions—microscopic, even (see what we did there?)—but they make a huge difference when it comes to sampling and testing for the flu.
Materials
As noted in the video, standard flocked swabs are made with nylon. While many labs consider them a perfectly acceptable option, they are not the only option.
Nylon swabs use surface tension between the fibers to trap biological material for sampling, which is great for collecting specimen, but not so great for eluting the specimen for testing. It's estimated that as little as 15 percent of the organisms collected by traditional nylon flocked swabs are released for testing.
Puritan's HydraFlock® and PurFlock Ultra® swabs are made with a bicomponent filament material that allow for not only superior collection but more complete elution, steps vital to obtaining accurate results.
Flock Design
The design is also something to consider when it comes to choosing a flocked swab for your flu testing needs. While standard flocked swabs do have a design superior to traditional spun fiber swabs, only Puritan has a proprietary manufacturing process that offers swabs with multi-length flock fibers providing you with the most efficient collection and elution on the market.
Each fiber of Puritan's HydraFlock® swabs is split into multiple tips, allowing for greater collection surface area and easier release of specimen particles.
Our multi-length flock fibers are adhered to the shaft by a proprietary process that eliminates the need for excessive adhesive or fiber treatments that can interfere with collection, ensuring flawless specimen purity. Various tip shapes and sizes are available to enhance the collection flexibility and greatly improve patient comfort.
To Coat or Not To Coat
The competition offers flocked swabs that have been coated with biopolymers to "improve the recovery and survival of organisms."
However, this study published in the Indian Journal of Medical Microbiology concluded that coating flocked swab tips does "not uniformly demonstrate higher recovery compared with their uncoated counterparts."
There is also evidence that protein solubilization from the swab-tip may affect the storage viability of the samples collected.
Puritan's HydraFlock® and PurFlock Ultra® swabs are uncoated and made with the highest quality materials to ensure reliability and efficiency.
Made in the U.S.A.
One final thing to consider when choosing a flocked swab, particularly during flu season, is that some companies may not be able to deliver the necessary inventory as quickly and reliably as you need.
Puritan does all our manufacturing right here in the U.S.A., and because of that we can respond to market needs with the highest quality products delivered on time. We're known worldwide for our consistent quality, repeatable results, and dependable availability.
Ready to find the perfect swab for you and your staff this flu season?