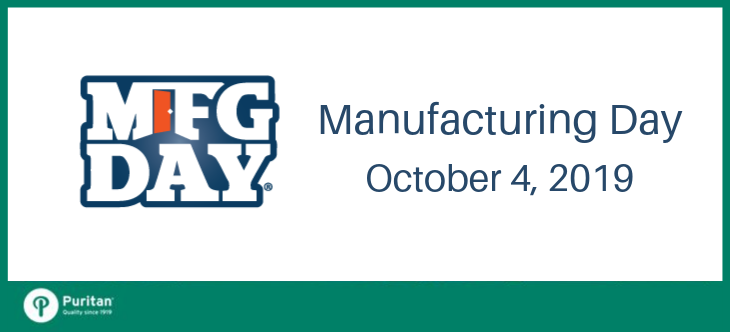 Manufacturing Day was created in 2012 to help manufacturers like Puritan celebrate their role in creating prosperous communities and to address common challenges so we can continue to help communities and future generations thrive.
The U.S. manufacturing sector activity growth hit a five-month high, according to the information-gathering firm IHS Markit. An initial reading of U.S. manufacturing Purchasing Managers' Index for September reached 51.0.
A report on CNBC.com said that's the highest figure since April and up from 50.3 in August. Readings above 50 show an expansion.
Other key manufacturing statistics you may not know:
For every $1 spent in manufacturing, another $1.89 is added to the economy.
Over the next decade, nearly 3.5 million manufacturing jobs will likely be needed, and 2 million are expected to go unfilled due to the skills gap.
Manufacturers in the U.S. perform more than three-quarters of all private-sector research and development in the nation, more than any other sector.
Just where does Puritan fit into the manufacturing picture?
Innovation as the Key Driver
As noted in a recent cover story for Mainebiz magazine, Puritan is a regional leader in manufacturing. And innovation has been a constant factor in our success. So much so that in 2017, the Maine Institute of Family-owned Businesses selected Puritan at the 2017 winner of its award for innovation and technology.
You might say innovation is at the core of our business. Consider our remarkable customization capabilities: We design and manufacture 90% of the manufacturing and quality-assurance equipment used to manufacture products.
Examples of where innovation has led to improvements in recent years include:
Ensuring packaging is as accurate and efficient as possible, from printing wrappers with industry and language-specific labeling to selecting shipping containers that protect products under potentially extreme conditions.
Meeting increasing industry-driven demands on barcoding to ensure we comply with marking standards for all of our 1,000+ products.
Adapting for custom features, such as accommodating specific breakpoints on swab shafts to assure reliable performance, efficiently delivered.
Improved product finishing, to assure purity and enhanced performance.
Demand Drives Need for Efficiencies
Simple demand for certain products spurs greater efficiencies. For example, we recently reviewed our SKUs in response to customer demand for certain products and drops in sales of others.
Stopping production on some traditional items not only led to more efficient use of warehouse space, but it also translated into fewer SKUs and, in turn, a significant savings of time and materials previously lost to equipment changeover and production line startup.
For our highest volume products, our engineering staff made skillful adjustments to machinery placement to optimize space while streamlining changeover from one product to another.
We saw nearly immediate improvements in lead times and inventories, particularly of seasonal products. The streamlining allowed for even more careful and comprehensive quality control steps. In turn, increased profitably meant more capital to reinvest in further improving operations.
Yes, you'll notice more cases of finished product shipping from the plant, but the efficiencies go well beyond numbers on a spreadsheet. Employees enjoy a less hectic work schedule and a more pleasant workplace environment where pride in product and job satisfaction can shine.
'Efficiency' Not Code for 'Fewer Jobs'
No matter how efficient we become, demand for our products continues to grow and along with it, the need for skilled workers. We have grown from a company of 200 in the 1980s to today where we employ more than 560 employees – and there's a healthy demand for more. Like many thriving companies in rural areas, Puritan is challenged by a scarcity of potential employees.
This reality is further complicated by changes in emerging diagnostic technologies, which creates a need for more people to join our highly technical research and development and formulating lab staff. Add to those jobs the need for machine operators, skilled customer service specialists, quality assurance and traffic professionals, and you can imagine we are continually looking for talented individuals to join us.
In fact, if you or someone you know might be interested in joining the Puritan team, check out our Careers page for our current openings. Please share this link with interested parties in your network.
The more efficiently we run our manufacturing operation, the more responsive we can be to our customers' needs. Puritan products are in demand all around the globe, and it's essential that we meet those demands for practitioners and labs in every area of healthcare, diagnostics, and investigation/research.
For Puritan samples, product information or product support, please contact our sales team at sales@puritanmedproducts.com.