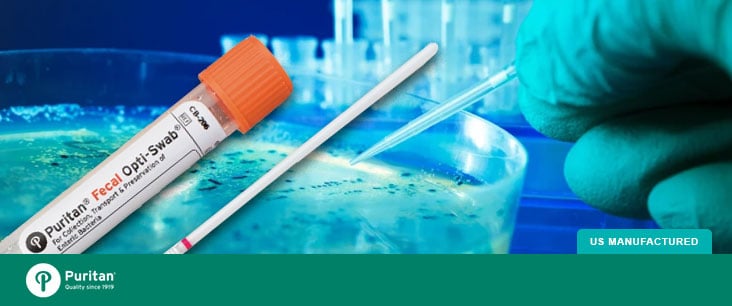 This blog post discusses an important study presented at the American Society of Microbiology Microbe 2018 conference, held June 7-11 in Atlanta. In this study, researchers from the Albany (New York) Medical Center evaluated and compared Puritan Cary Blair Transport Medium to another commercially available product.
There has been a dramatic increase in demand for transport media that can preserve enteric pathogens in human stool samples. The surge in demand stems from the newly introduced molecular rapid diagnostic methods for specific enteric pathogens, rapidly developing sequencing methods and analytical techniques to understand the human's gut microbiome.
The first step in any diagnostic method is to establish a reliable sample. Unlike oral and vaginal samples collected during patient visits to a physician, fecal or stool samples are collected at home by patients and transported to a laboratory for processing. Therefore, proper care in collection and handling of samples is essential to avoid changes in the microbiological conditions of the sample.
Puritan Cary Blair Transport Medium is designed to collect the required amount of stool sample and formulated to preserve microbial conditions of samples both at room temperature and refrigerated temperature for an extended period of time.
For details on the study and its results, please click this link.