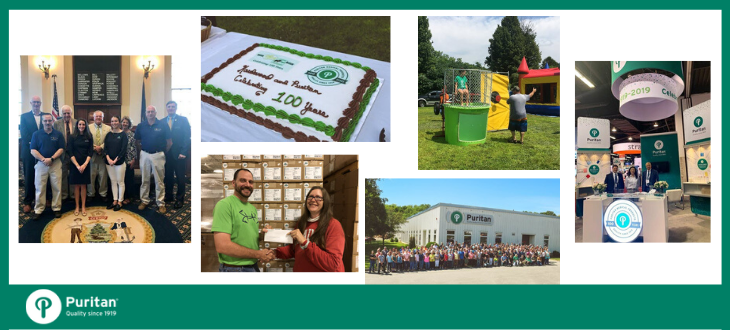 Thank you for joining us throughout 2019, reaching back to our beginning and traveling the road that has brought us to today. We've shared many highlights along the way – it's almost time to file them carefully away as we prepare for what's next. Before we do, a here's a quick look back at how we were able to celebrate our success.
Because of strong support for the Puritan brand, we were able to continue our monthly Puritan Gives Back program. Thoughtful nominations made by our civic-minded employees have made it possible to identify worthy recipients of our support.
Speaking of our employees, please see our blog posts that feature our "employee of the month." Every employee is special here, and we take time to let them shine, one at a time. And in recognition of the great contributions of each employee, all were given the "100th Day" off to enjoy in true Maine fashion.
The 100th Birthday Party was the celebration of the year, enjoyed by employees – past and present – and their families made up the 1,000 or so partiers. Puritan's founding family joined in the fun, along with local representatives (Senator Paul Davis and Representative Paul Stearns) from Maine's state government, who read their proclamation. Awards were presented acknowledging those employees with many years of service. There were happy hellos and lots of laughter. Great food, live music and lots of memories stretched along banks of the Piscataquis River until long after dark.
| | |
| --- | --- |
| | |
And now here we are, at year's end. It's been a very busy year at Puritan, with record sales and highest demand in our history for Puritan's single-use diagnostic products. While Puritan addresses the ongoing need for products for basic patient care, we continue to expand capacity to meet the continually growing needs for specimen collection swabs for everything from flu season to food protection to genetic investigation. We appreciate that we remain a respected source for high quality items for all healthcare related applications and thank you for your continued support.
Please keep these points in mind when you consider a Puritan product for your important work:
Puritan, established in 1919, is still a family owned and operated company in Guilford, Maine.
All Puritan products are made in the USA.
Puritan basic patient care products – tongue depressors and cotton tipped applicators – have been our flagship products for decades.
Puritan tipped applicators of cotton, rayon, polyester, foam, fabric and flock are all engineered and produced in our fully integrated manufacturing facility in Guilford, Maine.
Our formulating lab prepares and fills Puritan brand transport media devices on site.
All components of our products are carefully specified and sourced to meet the exacting needs of nationally recognized manufacturers of commercially available test kits and devices.
So, what's next? Where will our second century take us? Looking ahead we cannot see far down the road, but we watch, listen and prepare for indications of what will be needed by the many markets we serve. You will tell us what's ahead and we will respond.
Check out the other retrospectives here.