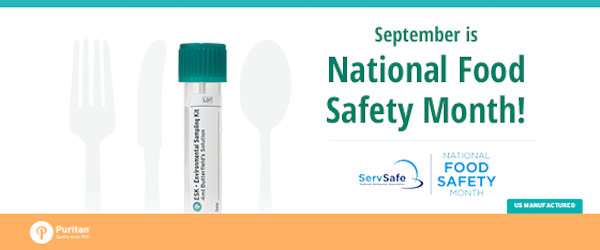 Food safety testing is the best way for restaurants, food producers and home cooks to ensure the quality of their food. But it wasn't until the early nineties that the United States celebrated its first official National Food Safety Month.
As the global food economy experienced massive growth in the mid eighties, so did the complexity of the food supply chain. That made it harder than ever for restaurants and other facilities to ensure the quality of their product. Today, food safety testing is a regular part of actively running a safe facility; but it hasn't always been that way.
When Did National Food Safety Month Start?
National Food Safety Month was created in September of 1994 by the National Restaurant Association Educational Foundation (NRAEF) to bring enhanced awareness to the importance of proper food safety education.
Founded in 1987, the NRAEF is the philanthropic foundation of the National Restaurant Association. The foundation's educational initiatives provide culinary, employability and food safety training to millions of Americans. Nineteen years after its inception, National Food Safety Month continues to offer free resources for both foodservice industry professionals and home cooks.
So What is Food Safety Month, Exactly?
Every September, National Food Safety Month focuses on a new theme, and offers free educational posters and training practices for the foodservice and food production industries. The purpose of these documents and training materials is to help teach and reinforce proper food safety practices and procedures to prevent the spread of foodborne illnesses.
This year's annual food safety campaign highlights the increasing importance of food allergen awareness. The brochures, posters and other materials are based on the ServSafe food safety training and certification program.
Who Participates in National Food Safety Month?
Traditionally, National Food Safety Month has been a time for individuals in the food industry to take part in tutorials and workshops designed to remind and renew safety policies. Additionally, politicians often see September as a chance to highlight any regulatory steps they've taken to combat foodborne illness in the United States; or to introduce new policies.

National Food Safety Month helps food safety professionals and consumers keep up to date on current safety initiatives and compare their successes with initiatives of previous years.
Test for Food Safety Regularly
Food Safety Month serves as a great reminder about the importance of maintaining food safety best practices year round. One way you can ensure the food you serve or produce is safe is to test for food safety regularly.
That's why we offer a full line of food safety sampling products. Click the image below to get your free food safety testing infographic and do your part to make sure the food coming from your facility or restaurant is up to snuff. Stock up to stay safe!