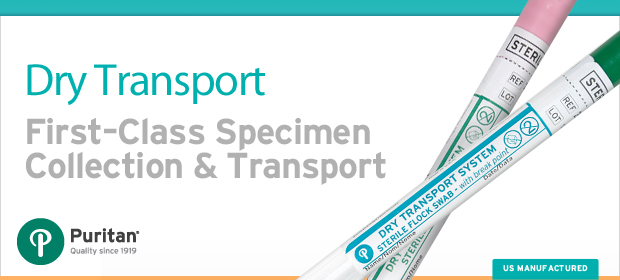 Now you can get all your specimen collection devices in one convenient place. Puritan Medical Products is introducing a new line of dry transport systems, offering customers a one-stop-shop for all their specimen collection and transport needs. This comprehensive line is a convenient way to collect and transport specimens from the patient to the laboratory.
Plenty of Swab Options
Puritan offers a wide variety of specimen collection devices as part of our dry transport system product line. This includes Puritan's patented HydraFlock® and PurFlock® Ultra flocked swabs as well as many other tip materials and handle configurations - many with molded breakpoints.
Our color-coded caps visually help the user to easily determine the swab enclosed inside each tube allowing for quick identification of the tip material and style. This new line of dry swab transport systems is available sterile or non-sterile.
Safe, Sterile Specimen Transport
All of our dry swab transport systems securely hold the swab in a round bottom tube made from virgin polypropylene resin, creating a safe and sterile envrionment to accomodate many different styles of specimen collection devices. The injection-molded cap assures a precision fit for multiple handle styles, eliminating the need for any foreign adhesive, which may interfere with the specimen.
Tubes include a distinctive label describing product identity and expiry date. Additional space has been designated for patient identification and collection information. The labels also act as a tamper resistant seal when attached to the cap. Our dry swab transport systems have a shelf life of three years.
This new offering highlights Puritan's dedication to expanding our product line to meet industry demand while providing the same quality and consistency our customers have come to depend on since 1919.
Want to learn more about our new line of dry transport systems? Please contact us today or request dry transport samples by filling out our form.