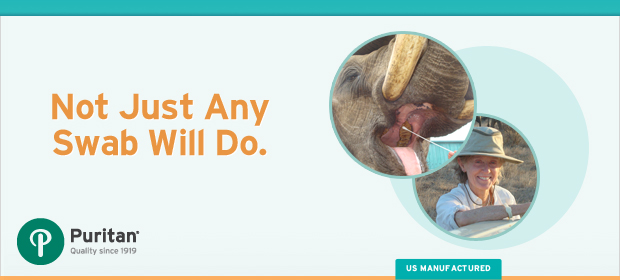 For the first edition of our Customer Stories series, we're heading to Kenya with elephant researcher Virginia R. Pearson to find out why large numbers of juvenile Asian elephants are dying of a relatively common disease.
Despite widespread and concerted conservation efforts, wild Asian elephant populations have seen a drastic decline in recent years. The elephant endotheliotropic herpesvirus (EEHV) is increasingly viewed as a leading cause of hemorrhagic death among young Asian elephants; and is widely accepted to be a threat to the sustainability of the wild elephant population. But why now? What's changed and why are juvenile Asian elephants dying in such high numbers?
In general, herpesviruses are not deadly unless the host is otherwise immuno-compromised. However, despite being species-specific, it is possible for transmission between closely related species, often resulting in severe disease or death.
Could Cross Species Infection be Killing Young Elephants?
Elephant researcher Virginia R. Pearson of the Department of Molecular Biology at Princeton University set out to address the hypothesis that specific elephant herpesviruses could be jumping from African elephants to Asian elephants (as African and Asian elephants are often housed together in zoos and circuses) with deadly consequences.
Pearson, who presented her studies at the 9th Annual International Workshop for Elephant Endotheliotropic Herpesviruses in Houston, TX this past February, is at the forefront of this vital research. More information, plus her abstract and photos, have been published in the Journal of Elephant Managers Association, May - Aug 2012 issue.
Her first stop? The savannas of Kenya to discover exactly which elephant herpesviruses are endogenous in African elephants, and whether those strains are present in infected Asian elephants.
Field Sample Collection and Preservation
In partnership with Save the Elephants and Kenya Wildlife Service Veterinary and Capture Services Department, Pearson started by locating wild African elephants with visible skin nodules suspected of carrying EEHVs.
The team collected tissue and saliva samples from twelve elephants (including five juveniles) using Puritan 16" swabs (#816), which Pearson described as "very useful in collecting enough elephant saliva to be able to detect these elephant herpesviruses in saliva for diagnostic purposes."
They were also able to collect heart and lung samples from a thirteenth elephant that had recently died. To preserve the samples before freezing, Pearson stored the swabs in 2.5ml Qiagen RNAprotect Cell Reagent which allows for room-temperature preservation.
Final Analysis and Determination
Independent PCR and DNA analysis at both Princeton University and Johns Hopkins School of Medicine showed that all five juvenile wild Kenyan elephants, and the dead elephant, were infected with at least one type of EEHV.
However, when compared against samples collected from infected Asian elephants, it became clear that the endogenous EEHVs found in African elephants is indeed different than the ones identified in Asian elephants.So what is causing the hemorrhagic deaths of young elephants?
What's Next for Pearson's Research?
In a corollary study beginning this summer Pearson will set out to determine whether the elephant herpesviruses suspected as endogenous to African elephants can cause hemorrhagic deaths in wild African elephants, and whether co-infection with elephant gammaherpesviruses affects pathogenesis of the disease.
To help support Pearson's research, we've donated funds and additional #816 swabs, which are long, sturdy, absorbent and soft enough to collect saliva samples from these large yet sensitive animals. We've also sent our 4600P Popules® (self-saturating povidone iodine swabs) for use as an antiseptic on the sampled elephant skin.
Click here to learn more about how Puritan supports the environment, or contact us today with any questions!