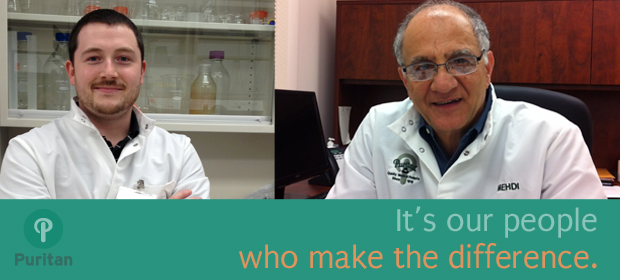 Happy Medical Laboratory Professionals Week! Every year, the American Society for Clinical Pathology (ASCP) sets aside a week to celebrate the often-overlooked laboratory professionals and pathologists who play a vital role in every aspect of health care.
"Since they often work behind the scenes, few people know about the critical testing [lab professionals] perform every day," says ASCP. "Lab Week is a time to honor the more than 300,000 medical laboratory professionals around the country who perform and interpret more than 10 billion laboratory tests in the US every year."
That's a lot of testing! In honor of Medical Laboratory Professionals Week's focus on the individuals who make this kind of diagnostic testing possible, we're sitting down with two of Puritan's own laboratory professionals: Mehdi Karamchi, VP of Scientific Affairs, and Brad Libby, Microbiology Products Supervisor.
What inspired you to become a medical lab professional?
Mehdi: What inspired me to become a medical laboratory professional was the ability to contribute to patient care in a meaningful way as part of my daily responsibilities, and the opportunity to end each business day with a feeling of satisfaction. I feel that I am an integral part of the healthcare system, as doctors rely heavily on my judgments and test results in determining how to effectively treat their patients.
Being a medical laboratory professional has also provided me with excellent career advancement opportunities, not only in traditional laboratory arenas, but also in design and development of new products and technologies that improve patient care. My profession has always been in high demand and financially rewarding.
Brad: I've always found the science field fascinating. The medical field will always evolve, and it is exciting to be part of a company that embraces the challenge of keeping pace with medical demands.
How do Puritan products contribute to the diagnosis and prevention of diseases?
Mehdi: Puritan specimen collection and transport systems are a critical and integral part of rapid diagnostic testing in microbiology, chemistry, hematology, and forensic fields. Without reliable specimen collection, transport and handling systems, the results of millions of diagnostic tests (and therefore, patient-treatments) may be compromised.
Brad: Working at Puritan, I get to observe/contribute to the production of new innovative medical products designed to effectively transfer a sample from a patient to the medical laboratory where diagnostic testing can be performed.
How does Puritan support and recognize their laboratory professionals and the MLPW theme "Laboratory Professionals Get Results"?
Mehdi: Puritan supports and recognizes their laboratory professionals by acknowledging commitment, providing advanced technical resources and developing and incorporating better manufacturing automation systems.
Brad: The company has done a fantastic job developing this division. In the last two years, we have successfully created microorganism transport systems for diagnostic and environmental testing. We have all intentions of continuing to create new products designed to meet consumer demands.
At Puritan Medical Products, we're lucky to have the indispensable support of individuals like Brad and Mehdi. For MLPW 2013, we're sending out a huge "Thank You" to all of our dedicated medical laboratory professionals. We couldn't do it without you!