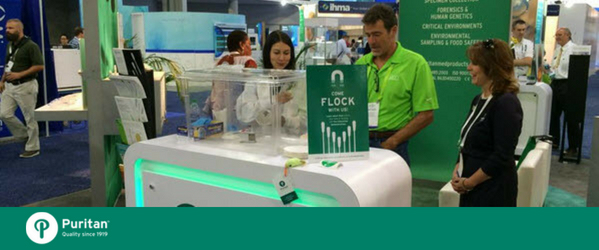 On June 7-11, an estimated 10,000 attendees and exhibitors convened on the Georgia World Congress Center in Atlanta for the ASM Microbe 2018 conference. And the Puritan team was right there with them.
A common conversation at our booth this year was the use of swabs in skin surface or fecal testing methods in microbiome research. A number of discussions centered on a new skin-cell sample collection process, and that sparked conversations about the best swabs and methods for the job.
It also proved a timely opportunity to highlight two newer Puritan products, the Fecal Opti-Swab and the PurSafe DNA/RNA Preservative.
Here's a look at some key takeaways from Atlanta.
Laboratory Automation Center Stage
In a major highlight of the event, Dr. Mary George of the Albany Medical Center in Albany, New York, presented during a high-profile Rapid Fire Talk on laboratory automation.
Dr. George discussed her study, Comparative Evaluation of Puritan and a Competitor's Sputum Solution for Recovery of Respiratory Pathogens Using Automated Plating. The presentation was sponsored by Puritan, and it put the spotlight on our Microbiology Medialine of products.
Dr. George also presented two other posters in Atlanta:
Comparative Evaluation of Lim Broth Recovery of Group B Streptococcus Using Automated Plating
Comparative Evaluation of Cary Blair Medium for Recovery of Enteric Pathogens Using Automated Plating
One-on-One Connections
It was great to see so many friends and colleagues stop by the Puritan exhibition booth.
Highlights included:
Discussions of how products such as the

UniTranz-RT media

transport system

helped meet demand during the busy flu season.
Helping people – especially students! – learn how our flocked swabs are used in different sampling methods, including thoroughdemonstrations that always drew a crowd.
Learning exactly how people are using swabs and what we can do to help resolve problems they encounter.
Conclusion
Check out our great video recap below and of course if you have questions about the Puritan studies or products you saw at ASM Microbe 2018, we'd love to hear from you! Contact us today.