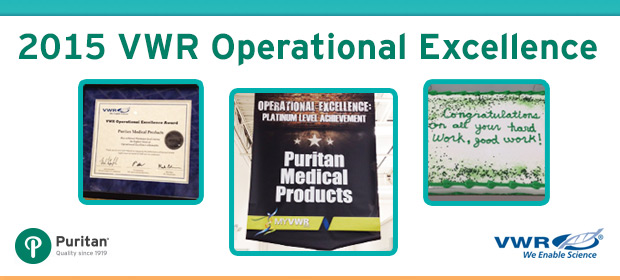 Puritan Medical Products Company is honored to have been recognized at the VWR 2015 International Americas Sales Conference that was recently held in Orlando, FL from January 12-15.

The VWR ASC brought together VWR sales representatives from the US, Canada, Puerto Rico and Mexico. It is through this team that Puritan products reach researchers, educators and industry, enabling science and its progress towards better solutions for the planet.

VWR is an internationally recognized laboratory supplier, specializing in everything from advanced chromatography equipment to lab furniture and office supplies. With clients and constituents in every corner of the globe, we were looking forward to exhibiting our wares to a diverse and qualified roster of attendees and even more humbled to have received the award.

Puritan's single-use products have for lab and critical envrionments have lead the way in improving outcomes in medicine and environmental sciences. Thank you, VWR, for taking word of our quality to the customers you serve.

The award for Operational Excellence was presented to Puritan for achieving Platinum Status, the highest level of Operational Excellence attainable. Data told the story of Puritan consistently providing

fine quality products with on-time deliveries for VWR's customers.

The Puritan team provided outstanding service levels in the key operational performance indicators of the end-to end Supply Chain in areas focused on:
Efficiency and Speed

Rapid Response

Consistent Execution

Quality and Accuracy

Transaction Details


This resulting in a 2014 total score of 93.26%, excellent by anyone's scale!

The honor was echoed in many conversations following the presentation – comments of appreciation by many sales professionals at VWR who recognize the efforts made by Puritan, as well as the results, were as special as the formal recognition.
This level of performance could only have been achieved by the commitment of everyone at Puritan - from raw materials, management and production, quality control and logistics, all the way to accounting and customer service. A celebration, with the banner was proudly displayed in the manufacturing plant and marked with cake and refreshments, brought the recognition home where it belongs.
Puritan products, manufactured in Guilford, Maine, are distributed across the country and around the world. VWR has been a valued distributor of Puritan products for critical environments and lab for over 30 years.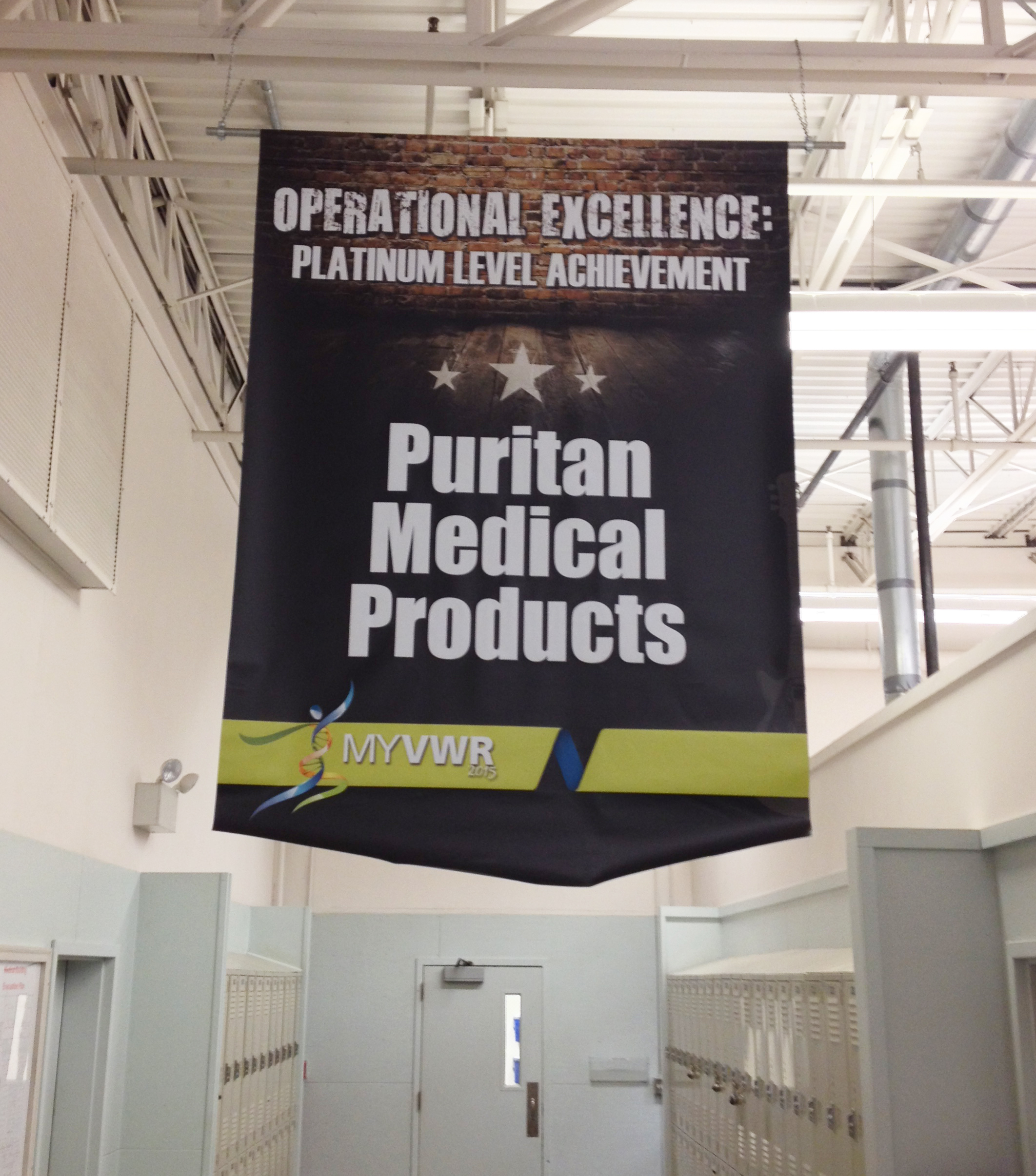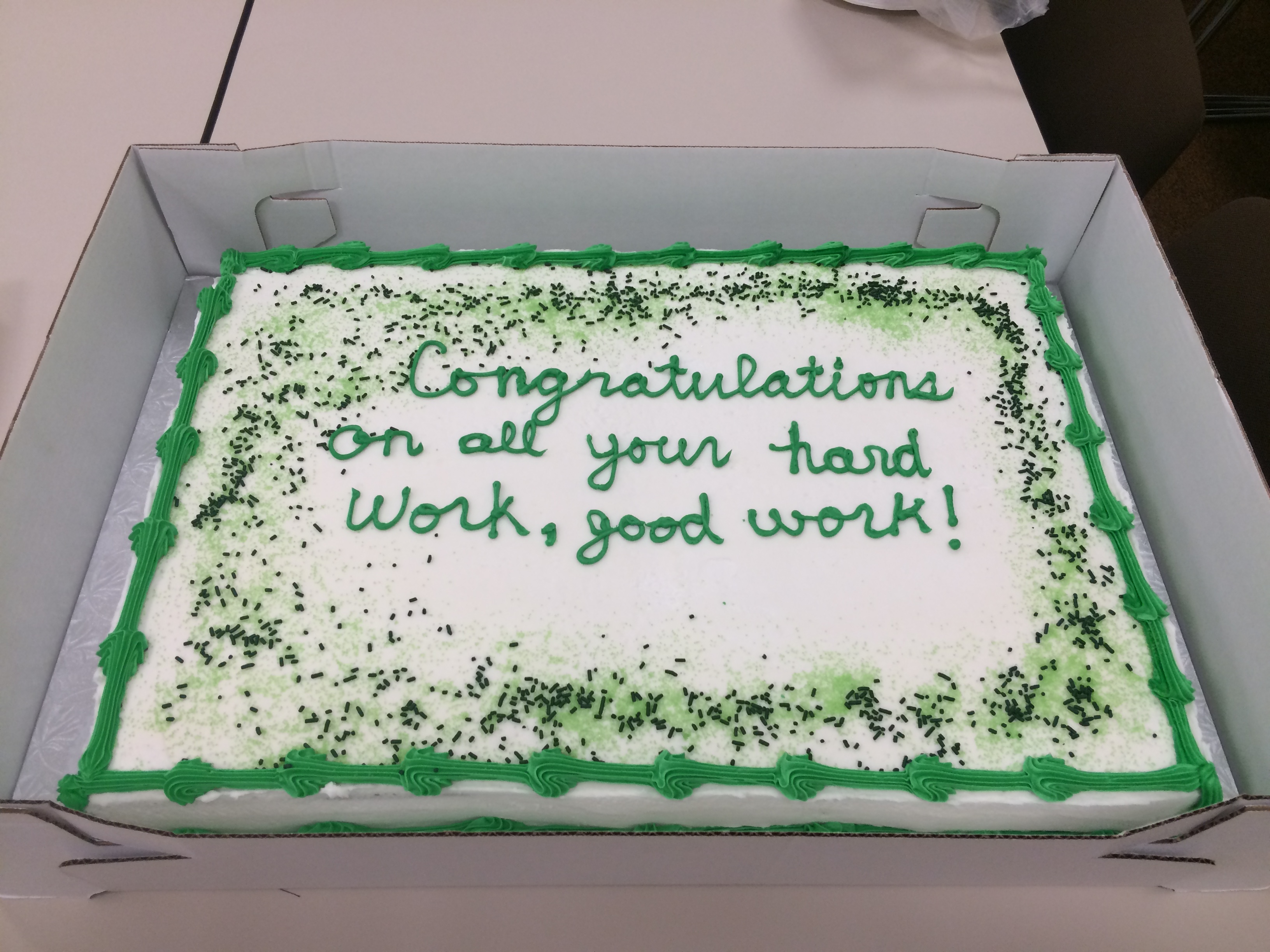 VWR (NASDAQ: VWR), headquartered in Radnor, Pennsylvania, is a leading, independent provider of laboratory products, services and solutions with worldwide sales in excess of $4.1 billion in 2013. VWR enables science in laboratory and production facilities in the pharmaceutical, biotechnology, industrial, education, government and healthcare industries.