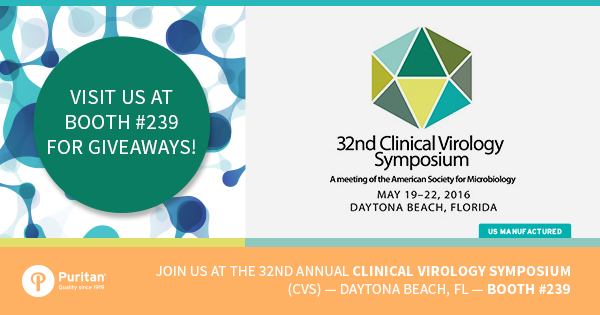 In a few short days we are off to Daytona Beach for the 32nd annual Clinical Virology Symposium. This meeting is hosted by the American Society for Microbiology and features the latest research on viral infections. From May 19 to 22, laboratorians, physicians, biomedical researchers, and medical product manufacturers will take in sessions and make connections at networking events. We hope to see you there!
Visit Puritan at Booth #239
Come by our booth to check out our top diagnostic products, including flocked swabs and media transport systems. We're especially excited to present some new product offerings: Opti-Tranz® and Opti-Tranz® Plus, our traditional liquid and semi- solid collection and transport systems for bacteriological applications. This interactive map shows you exactly where we are on the show floor so you won't miss us!
What else should you check out at the show? We've highlighted a few can't-miss sessions below.
Practical Issues: High Quality, Superior Sample Collection
Who: J. Michael Miller, PhD; Microbiology Tech. Services, LLC, Dunwoody, GA
When: Thursday, May 19th, 11:30 – 12:30 pm
What We Have Learned from the Reconstruction of the 1918 Influenza Virus
Who: David Morens, MD; NIAID, NIH, Bethesda, MD
When: Friday, May 20th, 12:15 p.m. – 1:15 p.m.
What: The "Spanish" influenza pandemic of 1918–1919 is the deadliest single event in recorded human history, resulting in approximately 50 million deaths worldwide. The cause of the pandemic and its severity remained an oft-talked about medical mystery throughout most of the 20th century. A breakthrough came in the 1980s, however, as the development of PCR technology made it possible to recover and sequence highly degraded fragments of viral RNA from victims of the 1918 virus. By use of viral "reverse genetics," the complete 1918 virus was reconstructed. Morens will review some of the studies performed with the 1918 virus and their implications for medical and public health practice today.
Looking for the full CVS program? You can view the schedule by day or in its entirety here. We look forward to connecting with customers, OEMs, and other industry professionals soon!