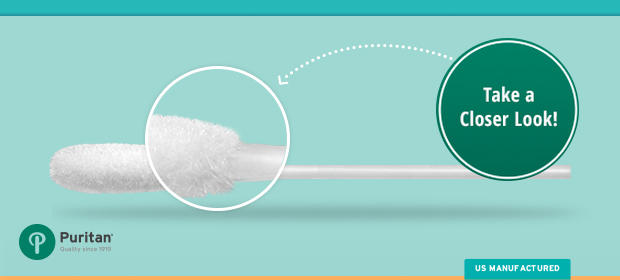 Puritan is known as a trusted manufacturer of hundreds of products that span nearly a dozen industries. We rely on our online catalog to be an essential tool for users to search through our products, view each one, and decide which one is right for their specific application.
We wanted to give our most popular products an update to include a new zooming functionality, which allows the viewer to see the details that make up Puritan's high-quality products. This new feature allows the user to view the tip, fibers, materials, breakpoints, and more!
While on a selected product page (for example, our 25-3406-U PurFlock Ultra® flocked swab), you'll see a "Roll over to take a closer look" option. From there, simply roll your cursor over the length of the product, and you will be able to view the product from a magnified perspective. As with all our products, the detailed information (which includes dimensions, materials, applications, packaging, Data/MSDS Sheets, and more) are displayed below the product.
We are very excited to announce and implement this new feature, and we hope you find it useful in your search for the right product for your needs. If you have any questions or comments, feel free to contact us!