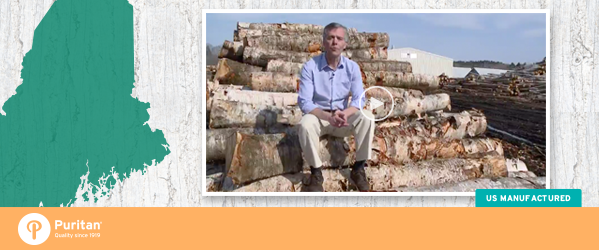 Many believe manufacturing in Maine is dead.
While it's true the papermaking industry has been in decline for years, and other types of plants across the state have closed, we happen to know that there are Maine manufacturers who are thriving.

Not only is Puritan Medical Products the largest swab manufacturer in the world, but we're growing by nearly 10-percent every year. Based in Guilford, Maine, the company employs over 450 people from Piscataquis County, which has just 17,000 residents in more than 4,000 square miles of territory. We produce over four billion swabs per year and sell products to 59 countries.
Since we hope Mainers would be proud of these stats, we jumped at the chance to share our story on WCSH6.
Reporter Rob Caldwell visited Guilford to do a TV feature about Puritan Medical Products and its other division, Hardwood Products Company, in April. His goal: to tell the story of how a one-time toothpick manufacturer has grown into a major player in several markets, including forensics, genetics, and diagnostics.
Caldwell and the WCSH-TV crew spent over three hours touring our Hardwood and Puritan Medical operations. They spoke with members of the management team—Timothy Templet, VP of Global Sales, Director of Quality Control Paul Dube, and General Manager and COO Terry Young—as well as folks on the production lines to gain insight into what we do and what makes Puritan interesting.
For employees, the story is personal.
"Everybody you talked to worked in one of the local factories, and that's just not the case anymore," said Jay Beckwith. "To find a good paying job to support your family is hard now. To have this locally, where you're with your family, is irreplaceable."
That fact is just one of many reasons Caldwell called Puritan Medical Products "a real manufacturing success story."
You can watch a video of the full piece below.