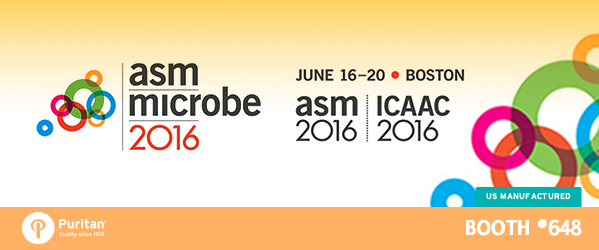 In just one week Puritan will be at one of our favorite events: the American Society for Microbiology (ASM) Microbe in Boston, MA!
ASM Microbe 2016 combines the annual General Meeting with the Interscience Conference on Antimicrobial Agents and Chemotherapy (ICAAC) to showcase the best microbial sciences in the world. The event promises a one-of-a-kind forum to network, learn, and explore the complete spectrum of microbiology, from basic science to translation and application.
This year's keynote is especially exciting as Richard Besser of ABC News will interview Bill Gates, co-chair of the Bill & Melinda Gates Foundation and business leader, about the state of global health and the importance of microbial sciences in basic and translational research to foster transformative innovations. "Bringing the Frontiers of Science to the Front Lines of Development" takes place on Thursday, June 16, at 5:00 p.m.
But the conversation with Gates is just one highlight of the five-day show. We've picked out eight other must-see sessions for ASM Microbe 2016. Let's get to it!
Next Generation Sequencing (NGS) for Microbial Genomic Surveillance and More - One Technology Fits All
What: Scientific workshop
When: Thursday, June 16th, 8:15 – 11:45 a.m.
This course will teach participants to understand and to apply NGS and various analysis methods for molecular typing of bacteria. NGS QC/QA procedures in clinical and public health microbiology will be given special emphasis. But what resources are available for analysis and interpretation? Attendees will find out!
Key takeaway: How to analyze and interpret generated typing data.
Future Microbiology - Predicting the Field in 2026
What: Scientific Workshop
When: Thursday, June 16th, 8:15 – 11:45 a.m.
Advancing technologies have pushed the field of clinical microbiology and infectious diseases forward big time over the last few years. But with advancement came new challenges, such as new and widespread outbreaks, new antimicrobial resistance challenges, and a push-and-pull between laboratory centralization and putting tests closer to the patient. This session questions how the new technologies of 2016 will hold up over time, and also probes what challenges and solutions are in store for the future of the field.
Advances in Clinical Microbiology from the Horse's Mouth
What: Symposia
When: Friday, June 17th, 8:15 – 10:45 a.m.
As far as we know, this symposium doesn't actually involve horses, but who knows? What we do know is the session promises the latest information on key advances in clinical microbiology by combining presentations by prominent investigators with brief summaries of several recent, important papers in clinical microbiology. A few of the topics on the docket: multiplex PCR tests for enteric infections, diagnostic testing for Ebola virus, the use of whole-genome sequencing for epidemiologic investigations.
Key takeaway: An understanding of a range of the latest clinical microbiology investigations.
Integration of MALDI-TOF MS in Clinical Laboratories - Two Laboratories' Experiences
What: Meet-the-expert
When: Saturday, June 18th, 7:00 – 8:00 a.m.
In this session two experts with two different perspectives (one from the U.S. and one from Europe) will discuss what it's like to fully adopt MALDI TOF MS into the routine clinical practice of their labs. If you don't yet know all about the bioMérieux and Bruker systems, don't fear—both will be covered. Both strengths and weaknesses will be covered for a comprehensive examination.
Key takeaway: An understanding of all aspects of clinical use of MALDI TOF MS, such as validation, workflow changes, cost implications, instrument reliability, reporting changes, laboratory information systems implications, laboratory automation, and quality control.
Hand Hygiene and Environmental Issues in the Healthcare Setting
What: Slide session
When: Saturday, June 18th, 8:15 – 10:45 a.m.
We know hand washing is a critical part of protecting against viruses, but there's a lot more to hand hygiene than a bit of common sense. This session dives deep with a look at the risk of hand-to-hand transmission of bacteria, the relation of alcohol-based hand gel to the incidence of healthcare-associated infections, some early results of a duodenoscope microbiological surveillance program, and much more. The presenters will also ask a timeless question: How clean is cleaned?
Key takeaways: The ability to discuss updates of hand hygiene research, to describe challenges with duodenoscope cleaning, and to report advances in environmental cleaning techniques in the healthcare setting.
GBS Diseases: Global Challenges
What: Symposia
When: Saturday, June 18th, 8:15 – 10:45 a.m.
Per the program: "Since the last GBS symposium at ASM in 2000, there have been many key developments in microbiological diagnosis, screening guidelines, molecular epidemiology, clinical management, and vaccinology, using state of the art technologies, including the incorporation of GBS whole genome sequencing." Jeffrey Scholm, the ASM Award in Clinical and Diagnostic Immunology Lecturer, will kick off this session with a talk covering recent advances in genomics, basic immunology, and vaccinology that have now been integrated toward the rational design of various vaccines. Global experts will also present on similar topics to provide a wide perspective.
Between now and ASM, check out our blog post about pharmacogenomics and genetic testing for mental illness. This developing science is absolutely worth keeping an eye on.
Practical Considerations and Novel Applications of MALDI-TOF MS in the Clinical Laboratory
What: Symposia
When: Saturday, June 18th, 8:15 – 10:45 a.m.
This session about MALDI-TOF MS is expansive, and with good reason. Since MS platforms were FDA-cleared for bacterial and yeast identification, MALDI-TOF MS have been fast-tracked in many labs. Consequently, there's a lot to talk about: the complexities of implementation and verification, the different approaches to validation and implementation of both the FDA-cleared and RUO MALDI-TOF MS databases into the clinical laboratory; the broadening and practical applications of the systems. A discussion of bench-to-bedside real world cases highlighting the benefits and practical considerations of MALDI-TOF MS will round things out.
Optimal Use of Rapid Diagnostics in the Clinical Microbiology Laboratory for Quality Improvement and Clinical Care
Who: Symposia
When: Saturday, June 18th, 8:15 – 10:45 a.m.
Rapid diagnostics in clinical microbiology can only be a good thing, right? Mostly. This session acknowledges how choosing the right rapid diagnostic platform, developing a business case for buying and implementing it, and antimicrobial stewardship in hospitals can be daunting if not downright overwhelming. Guidance is needed and the lectures in this session weigh the pros and cons of rapid diagnostic platforms currently on the market.
Key takeaways: How to develop an effective business case for purchasing and implementing a rapid diagnostic platform in a clinical microbiology laboratory, how best to utilize rapid diagnostics to optimize infection control and antimicrobial stewardship opportunities, and how most effectively to use rapid diagnostics to favorably impact clinician decisions and patient care.
Visit Puritan Medical Products in Booth #648
Come by our booth to sample our newest offering: a 3" applicator stick for MALDI-TOF MS systems. The tapered pointed stick, available sterile and non-sterile, can be used as a direct colony transfer device to the MALDI racks for analysis. We'll also have our top flocked swabs and media transport systems on hand. Oh, and some really fun Puritan swag, of course.
See you in Boston!