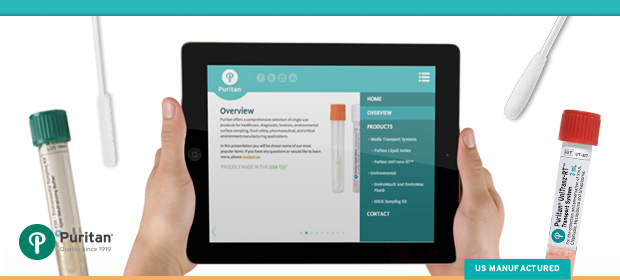 Puritan distributors: are you looking for a simple way to present our products and boost sales on your next pitch? We thought so!
That's why we created an iPad microsite especially for you. We wanted to make it even easier for our distributors to present, describe, and ultimately sell more of our single-use medical products, so we're putting this convenient sales tool in your hands at no cost to you.
Demo Swabs, ESK, and More On-the-Go
Our iPad microsite is designed to let you:
Easily share our single-use products for healthcare, diagnostic, forensic, environmental sampling, food safety, pharmaceutical, and critical environment manufacturing applications.
Quickly display our most popular products, such as Puritan's Liquid Amies and UniTranz-RT™ transport systems, our patented flocked swabs, and EnviroMax® environmental sampling products.
Present with or without an Internet connection.
Demonstrate real-world use with embedded product videos.
We hope you'll take advantage of this great sales tool the next time you present our products at a trade show, sales pitch or client meeting. Click below to register for your demo today.