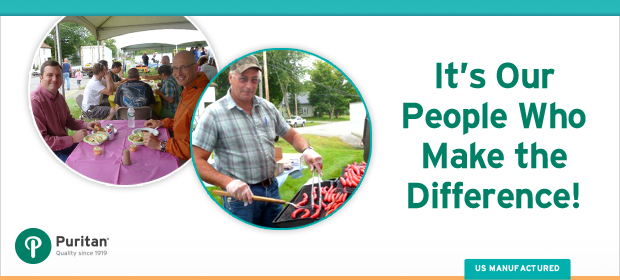 Photo: (From left) Paul Dube, Scott Wellman; Bruce Jones
At Puritan Medical Products and Hardwood Products Companies, we recognize that it's our people who make the difference. To celebrate their dedication and hard work, we hosted our 13th annual Employee Appreciation picnic last month.
Puritan & Hardwood Employee Appreciation Picnic
This yearly event is a chance for Puritan & Hardwood to honor those individuals who've helped Puritan grow into one of the world's most trusted manufacturers of flocked swabs and other single use medical products.

Every year we hold the Employee Appreciation Picnic on the front lawn; and in a welcome twist, it's our managers who serve their employees. This year, 22 of our team-leaders showed their thanks by manning the lunch and dinner grills, serving the food, and capturing photographs.

We'd also like to offer a special 'Thank You' to Canteen Service Co., another Maine owned and operated family business, for providing a delicious menu of hamburgers, hot dogs, potato and green salads, chips, soda, water, coffee, and make-your-own ice cream sundaes!
Employee Milestones - 30 Years!
In addition to our annual Employee Appreciation picnic, we also had the opportunity to celebrate two huge employee milestones last month. On August 16 and 17 respectively, Charlene Bradley (Quality Inspector, Medical Building) and Katherine White (Fiber Tipper, Medical Building) celebrated 30 years at Puritan!

It's the dedication of long-standing employees like Charlene and Katherine who've helped Puritan & Hardwood grow into the internationally recognized companies we are today.

Charlene and Katherine have shared some fun memories in their 30 years at Puritan; like the time Katherine removed the wheels from Charlene's cart while she was performing quality inspections. In fact, the goofy gag has become a long-running joke throughout the years.

Both women also have numerous family members who have worked for Puritan and Hardwood over the years, and say that the companies "have always provided a continued source of employment for multiple generations throughout the local community." It has been our pleasure, ladies.
Thanks to Our Whole Team!
On behalf of Puritan Medical Products and Hardwood Products Companies, we would like to thank all of our employees for their loyalty, hard work and unending dedication. We wouldn't be where we are today without employees like you!