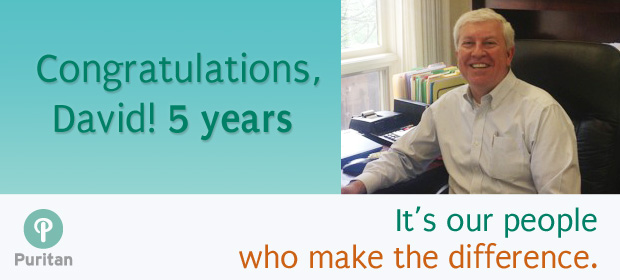 At Puritan, it's our people who make the difference. Today, we're celebrating David Perkins, our Senior VP of Sales for the Medical and Critical Environment Industries, who's now been with us for five years! To acknowledge this milestone we asked David five of our favorite questions:
What do you do when you're not working at Puritan?
I really enjoy the woods and spend as much time as I can either at our family camp on Whetstone Pond or outdoors with my family and two Australian Labradoodles.
How do you describe what you do to people who don't know about Puritan?
I explain that I work for a single-use medical device manufacturer in Guilford, ME. That usually leads into a more detailed explanation of the products we offer, what they are used for, and the types of companies we support. People are continually amazed at the complex nature of our product line and it all being manufactured in the middle of the Maine woods.
What is your best memory in all the years you've worked here?
I have only worked here five years but it has gone by tremendously fast. Our employees are the most pleasant people anyone could work with. My job allows me to travel to many areas in the U.S. and abroad.
One of my favorite memories was a trip to India. As we arrived at our hotel in Mumbai we noticed that it was surrounded by the Indian army and fortified with sandbags and machine guns. It was then we learned the Taj Mahal hotel was close by and had been recently bombed, tragically resulting in 106 casualties. Needless to say, we didn't stray too far by ourselves.
How has Puritan changed in the time you've been here?
Wow! It's amazing the change that has taken place in the last five years. With the addition of our state-of-the-art microbiology laboratory and continued flocked swab technology, we have really transformed from a medical-surgical and industrial product manufacturer to a more complex diagnostic company to include media transport systems for human diagnostics and environmental surface sampling. Puritan now supports the medical, diagnostic, critical environment, industrial, food hygiene, and forensic industries and we ship almost everything from a new 40,000 square foot warehouse!
Do you have any relatives who work here or have worked here? How many?
My daughter was fortunate to have worked here three summers while in college. Puritan does an outstanding job supporting the youth of our rural communities.
We're lucky to have dedicated and hard-working employees like David Perkins on our team. Thanks for being here David, we couldn't do it without you!