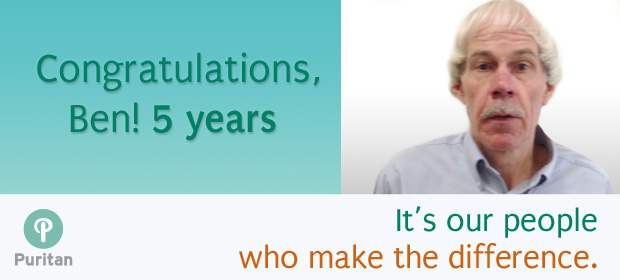 You don't become a world leader in single-use medical products on your own. You need the support of loyal and dedicated employees who work hard to make your company's goals a reality.
At Puritan, we're lucky to have team-members like Ben Hamblen, second shift supervisor, who celebrated five years at Puritan on April 22. To acknowledge this milestone, we sat down with Ben to learn a little more about what makes him tick.
What do you do when you're not working at Puritan?
I enjoy spending time with my wife and dog.
How do you describe what you do to people who don't know about Puritan?
I let them know that Puritan produces healthcare products for the medical industry. Before coming to work at Puritan, I was unaware that Puritan manufacturers a lot of the products you see in a doctor's office or other medical facility. I think a lot of the manufacturing workers do not realize the impact they are making with the products they are producing day-in and day-out.
What are some of your best memories in the years you've worked here?
Working with fellow co-workers and being able to have the opportunity to advance with the company: having management see the potential in me to take the next step.
How has Puritan changed in the time you've been here?
The company is forward thinking and progressive in our product development. Seeing recent investment lets Puritan stay ahead of the competition and allows everyone to remain employed.
"A lot of people do not realize that we make all those medical products here in Guilford, Maine," says Ben. "We are a small community, but make a big impact on the world."
We couldn't agree more. Thanks for your service and dedication, Ben Hamblen. The Puritan family is lucky to have you!