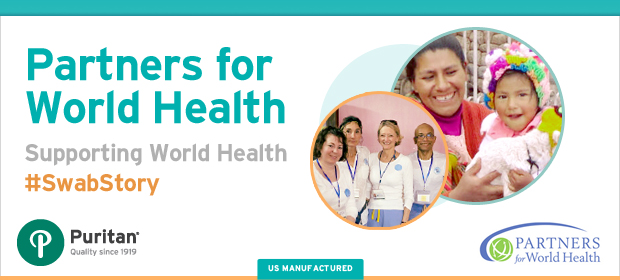 We don't have to travel far for our latest #SwabStory. For this installment of our Customer Stories series, we're heading to nearby Scarborough, Maine to find out how, and why, Puritan Medical Products supports Partners for World Health.
Partners for World Health is a non-profit, all-volunteer organization that provides medical supplies, healthcare missions and education to developing countries around the world. Due to federal regulations, every year US hospitals and other medical facilities throw away thousands of pounds of unused or lightly used medical products that can prove vital to healthcare facilities in developing nations.
How Does Partners for World Health Help?
PWH collects discarded medical supplies and distributes them to people in need. They also provide health care services to third world countries and aim to educate people about worldwide health, all while reducing environmental waste.
They collect include single-use medical products like sterile needles, tourniquets, tongue depressors, gloves, and lots of plastic tubs, bedpans, and water pitchers. With a large international network, PWH also organizes medical mission to developing nations.
How Does Puritan Help?
On May 13 Puritan Medical Products donated 65 cases (that's 500 pounds!) of single use medical products to Partners for World Health. From tongue depressors to sterile swabs, single use items are an essential supplement to the recycled medical supplies that Partners for World Health gathers and distributes. The all-volunteer organization relies on donations and volunteers to continue their charitable work.
We urge you to consider donating to this unique non-profit organization. Partners for World Health is a 501 (c) 3 organization and all of your donation is tax deductible. You can visit this link to donate.
Got questions about Partners for World Health, Puritan Medical Products or our customer stories series? Please contact us today!