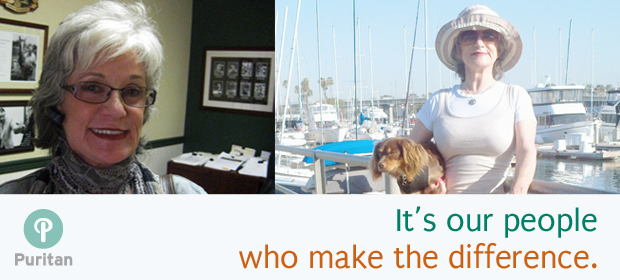 Susan Shrader's long career with Puritan Medical Products will draw to a close at the end of this month, April 2013, when she hangs up her phone and turns to her private life in Southern California.
Susan's history with Puritan goes way back to 1986. At that time, she was a member of Kay Sales Co., a California manufacturer's rep that distributed Hardwood and Puritan products for manufacturing, repair and operations (MRO).
Susan was hired directly by Timothy Templet, Puritan's current EVP of sales and marketing. It was here where Timothy showed Susan his particular brand of sales techniques! Her expertise in selling to the industry drew on her solid understanding of the needs of critical environment production – not what you'd expect when you meet her - a petite, confident woman with a Hollywood smile.
In 1993, Susan being the entrepreneur she was, took her vast industry knowledge and formed Shrader & Associates, an independent manufacturers rep firm that sold several industry product lines, and lab supplies (lab coats, gloves). One of the brands she carried was Hardwood & Puritan Medical Products.
In 2000, Susan joined Puritan full time as our West Coast Diagnostic Sales Representative. She brought her loyal customers who relied on her expertise to keep their operations running smoothly. During this time, she grew into the complex diagnostic market by combining her zest for problem solving with her determination to understand the exacting requirements of this evolving market.
Soon Susan had cultivated the same close relationships with major medical device manufacturers as she had with suppliers to Silicon Valley's electronic industry, and the rest is history.
Susan's years at Puritan have been filled with many exciting events. To name a few: the Exotic Newcastle Disease outbreak that threatened our country's poultry, 9-11 and the scramble for medical supplies for victims and military, and the pandemic flu threats (both avian and swine). Susan has played a vital role at every turn, bringing her creative energy and team spirit to bear and meeting each challenge with Puritan to achieve positive results.
We wish Susan and her husband Mike well in all that lies ahead - gardening, writing, time with grandchildren and the Cavaliers. And we hope she has plenty of time to enjoy herself - out of earshot of the phone.