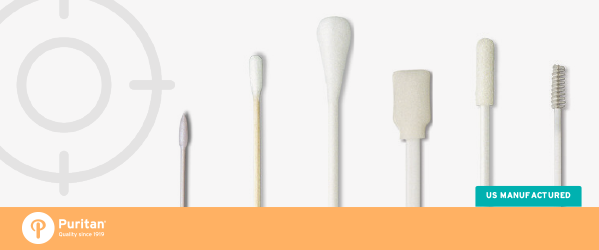 As an American company that sells American-made products, we're incredibly grateful to all the veterans who've served our country honorably during war or peacetime. This and every Veterans Day we give thanks to the brave and determined members of our military who have long defended our freedom, our prosperity, and our future.
"Veterans Day is a poignant time to reflect upon those who have served and supported our flag and our country, providing us the freedom we enjoy," says Puritan employee and veteran David Perkins. "This is the land of opportunities for all who embrace them, shaped by the values of those who came before us."
Today we reflect on what an honor it is to provide essential supplies to our armed forces, both at home and abroad.
Puritan's tongue depressors and tipped applicators—most all Puritan products, in fact—are utilized by those that care for our servicemen and women. But our products are not just used in a medical capacity; Puritan's wide range of swabs are also used to ensure the cleanliness and safety of the weapons our troops carry.
"American made products are known around the world as quality products made and engineered from quality materials and dedicated skilled workers," notes Perkins. "It is these products that have supported our military for hundreds of years and as they do today."
We understand that keeping weapons clean in a combat zone can be a matter of life or death. During deployment, weapons are often cleaned daily. Even the men and women who don't leave base clean their guns at least once a week for inspections.
Favorites among shooters—both active duty or veterans—vary from cotton-tipped applicators to brushes. Here are a few:
876-WC: Made of USP cotton and strong, straight white birch, these 6" economical tipped applicators are clean, medical grade, and biodegradable
808: This l

arge diameter, 8" swab is often used

for cleaning large caliber and longer barrel weapons
1804-PF:With foam tips on plastic handles, PurSwab leaves no fibers behind
In addition to this brief list, we've created an infographic that gives a more comprehensive look at which Puritan products are best for gun cleaning. You can download the gun cleaning products infographic here.
For additional questions about which products to order for gun cleaning or weapons maintenance, feel free to contact our helpful product specialists today.
Puritan is proud to make products valued by U.S. active duty military members and veterans. This Veterans Day we all share in the remembrance of the dedication and sacrifice of those who have served our country.
To all members of our military, a sincere thank you from Puritan.